PRESS CLUBS


THE LA PRESS CLUB






LODGING & PROPERTIES


TOURISM


QUAY'S IRISH PUB


EL TEATRO CABARET
& RESTAURANT


EQUIPMENT




CANNES RELOADED
for the 56th time
The Cannes Press Club Opens At
The Cannes Film Festival
amidst stars, fireworks & heavy drinking!


Cannes Welcomes You ..... Photo: Suzy

by Dr. Susan Block
I arrived in Cannes on a balmy day in May, ready to begin preparations for the Grand Opening of the brand new Cannes Press Club. A few weeks earlier, attempting to find out which local drinking establishments the thousands of journalists who come to Cannes might frequent, we tried to look up a "Cannes Press Club," only to discover that there wasn't one. Indeed, there wasn't even a Riviera Press Club, despite the fact that throughout the calendar year, the Riviera in general, and Cannes in particular, plays host to a whirlwind of film, television, music, art and Internet festivals and conventions, attracting writers, reporters, personalities, publicists, paparazzi, documentarians, shutterbugs and scribblers galore, at every level of the media food chain from all corners of the entertainment-loving world.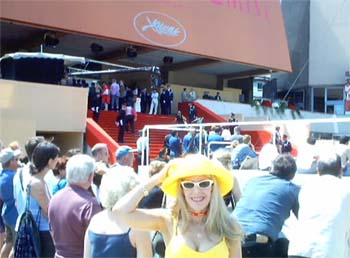 The scarlet carpet of Cannes 2003 ... Photo: Max
Having been a fairly active member of the Los Angeles Press Club for the past several years, I decided that a globally significant party town like Cannes sorely needed its own Press Club. Especially nowadays, with so many journalists "embedded" within the military, the government, multi-national corporations, this industry or that, their own little dream world, or some other compromising matrix, we can all use a diversified, convivial support group by the sea. And so, I created the Cannes Press Club.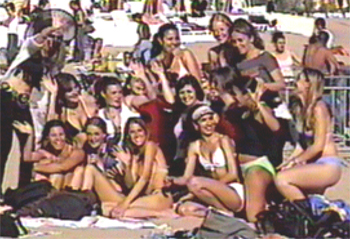 My Cannes Press Club Presidential Campaign Team ...Photo: Max
I made myself President, and no, I did not hold formal elections. But hey, if GW Bush can make himself President without winning an election, I figured I could too. By the way, our first free elections will be held in 2005.

My supporters ... Photo: Max
As President, I needed a full-time Cannes resident and accredited journalist to run things. That would be Dèirdre Mooney, veteran reporter for top British newspaper The People, also having written for People Magazine, The Hollywood Reporter, The Evening Standard, Paris Match, People Weekly, The Daily Telegraph, The Daily Star, The Sunday Independent, Hello! and The London Sunday Mirror, and having interviewed such shimmering stars as Jack Nicholson, Sean Connery, John Travolta, Richard Harris, Oliver Reed, Priscilla Presley, Al Pacino, Marina Picasso, Mickey Rourke, David Schwimmer, Sylvester Stallone, Charlie Sheen, Arnold Schwartznegger, Prince Albert of Monaco, Sharon Stone and Meg Ryan. With all those credits and connections, I didn't hesitate to make Dèirdre Executive Director of the Cannes Press Club, whereupon her country house in Cannes' lovely Croix des Gardes district became the Cannes Press Club Villa.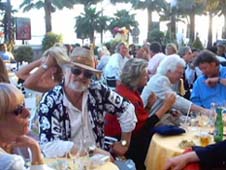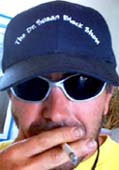 Dèirdre & Max on the Carlton Terrace (L) Thierry smoking (R) ... Photos: Suzy
I made French Artist and Côte d'Azur Bon Vivant Thierry C. the Cannes Press Club Advertising and Sales Artist-in-Residence, and I made Max the Bot-ler (more on the Bot-ler's duties later). We all agreed that the most propitious time to inaugurate the Cannes Press Club was during the famed and teeming Cannes Film Festival.
CANNES RELOADED
IN 11 PAGES
1 I 2 I 3 I 4 I 5 I 6 I 7 I 8 I 9 I 10 I 11
PAGE 1

THE CANNES PRESS CLUB



E-MAIL US TO ADVERTISE
CANNES: 33 (0) 699962410
LOS ANGELES: 213.749.1330

VISIT THE CANNES PRESS CLUB
YAHOO GROUP: MEMBERS ONLY

CANNES PRESS CLUB FRONTPAGE
THE CANNES PRESS CLUB
welcomes contributions from
Cannes Press Club Members and
Residents of The Riviera
FOR REPRINT RIGHTS, PLEASE EMAIL US
BLOCK PUBLISHING GROUP
8306 Wilshire Boulevard Suite 1047
Beverly Hills, California 90211 USA




ONLINE JOURNALS




Dr. Susan Block's
Travels with Max


GOOD LIBATIONS







RADIO & TV



BOOKS ONLINE