PRESS CLUBS


THE LA PRESS CLUB






LODGING & PROPERTIES


TOURISM


QUAY'S IRISH PUB


EL TEATRO CABARET
& RESTAURANT




continued from previous page
CANNES RELOADED
by Dr. Susan Block
IN 11 PAGES
1 I 2 I 3 I 4 I 5 I 6 I 7 I 8 I 9 I 10 I 11
PAGE 11

AND THE WINNERS ARE…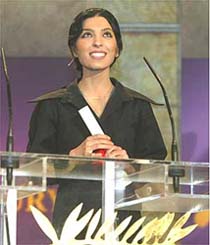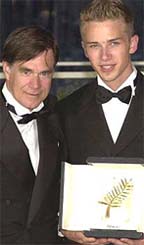 Samira Makhmalbaf and Gus Van Sant with Elias McConnell
The spirit of James Dean seemed to come alive, only to crash again when a Turkish film called "Distant" ("Uzak") won the runner-up Grand Prize, as well as a joint Best Actor for the two leads, one of whom, Mehmet Emin Toprak, was killed in a car accident just after he learned that he was going to the Cannes Film Festival.
Afghanistan took center stage at the festival with a film called (what else?) "Osama" by Sedigh Barmak. We all know Afghanistan didn't have much of an army to fight back when it was recently invaded by the American military. But did you know that Afghanistan owns just one recently repaired 35 mm camera, and has made no more than 40 films in the past century? "Osama," which won a special mention by the jury in the Camera d'Or section that judges new directors, is a journey across Afghanistan in the days of the Taliban, as told through the eyes of a 12-year-old girl who is disguised as a boy so she can move freely.
Another film about the plight of Afghan women, using a cast of people picked off the streets, "At Five in the Afternoon," won the prestigious Jury prize. At 23, director Samira Makhmalbaf, dazzling daughter of an Iranian filmmaking dynasty, was the youngest director competing for the Cannes Golden Palm. "Though the Taliban have gone, their ideas are anchored in peoples' minds, in their traditions and culture. Taliban is not just a group, it is any kind of fanatic government, any ignorance," Ms Makhmalbaf said, adding that in her view, there is no difference between American President George W. Bush, "also a fanatic", and the Taliban. "The way Bush behaves is like a sort of American version of the Taliban," Makhmalbaf continued. "He forced his way into Afghanistan and Iraq thinking democracy would happen overnight. Well, democracy takes time and so does infrastructure and making sure people have food and shelter."
Upon winning, she declared "My movie is about a woman who dreams of becoming a President. But I personally don't have such a dream ... because we are living in a world in which Mr. George W. Bush is the most famous President." The characters in "Giant" couldn't have said it more frankly.
How Ms. Makhmalbaf's film will be received in her native Iran, where hatred of Bush is strong and anti-mullah protests are also at a high point, or whether these mullahs will even allow "At Five in the Afternoon" to be shown publicly, remains to be seen.
The Big Winner of the cherished Palme d'Or, as well as the Director's prize, was American Gus Van Sant's "Elephant," a film about an ordinary day in an Oregon high school that erupts into a massacre, Columbine-style. Of course, the winning film is chosen by an international nine-person jury of film professionals (this year including American director Steven Soderbergh and actress Meg Ryan), but one can't help but read all sorts of notions about Franco-American relations into the winning choice--especially those ones of us who haven't actually seen the film and are writing about it Jayson Blair-style.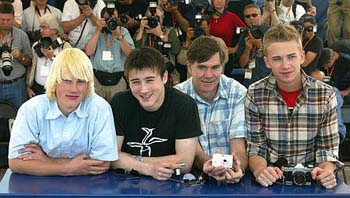 "Elephant" Actors and Director Gus Van Sant
The fact that "Elephant" was American, directed by the American Van Sant (best-known for "Good Will Hunting", "Drugstore Cowboy" and "My Own Private Idaho"), and featured all young American unknowns as actors, seemed to say that France was trying to make up to America by awarding Cannes' top honor, even though it had so vociferously opposed America's war in Iraq. But the fact that "Elephant" portrayed a "typical" American school as a hotbed of hatred, mind-numbing conformity and massively lethal violence, seemed to say the opposite. Hopefully, Bush's greeting of "Vive la France!" when he arrived a few days later at the Evian conference is a harbinger of good Franco-American relations to come, despite what the pundits say.
There were other Festival du Film winners, but you get the idea. Several losers were spotted weeping in the toilettes of various theaters and parties, as were journalists with lowly-colored badges or the wrong shoes. We won't say who was doing the weeping, just in case these were replicas. All we know is that tears mix freely with tans in lovely, glamorous Cannes during festival time.
We at the Cannes Press Club can only hope that next year, at least one of our members will be awarded a pink badge with gold speckles or whatever the winning colors may be at the Festival du Film 2004. In the meantime, we are here for all journalists and quasi-journalists whenever you find yourselves moving through the marvelous Matrix of Cannes.
CANNES RELOADED
by Dr. Susan Block
IN 11 PAGES
1 I 2 I 3 I 4 I 5 I 6 I 7 I 8 I 9 I 10 I 11
PAGE 11

THE CANNES PRESS CLUB



E-MAIL US TO ADVERTISE
CANNES: 33 (0) 699962410
LOS ANGELES: 213.749.1330

VISIT THE CANNES PRESS CLUB
YAHOO GROUP: MEMBERS ONLY

CANNES PRESS CLUB FRONTPAGE
THE CANNES PRESS CLUB
welcomes contributions from
Cannes Press Club Members and
Residents of The Riviera
BLOCK PUBLISHING GROUP






ONLINE JOURNALS




Dr. Susan Block's
Travels with Max


GOOD LIBATIONS







RADIO & TV



BOOKS ONLINE