PRESS CLUBS


THE LA PRESS CLUB






LODGING & PROPERTIES


TOURISM


QUAY'S IRISH PUB


EL TEATRO CABARET
& RESTAURANT


EQUIPMENT



continued from previous page
CANNES RELOADED
in 10 pages
1 I 2 I 3 I 4 I 5 I 6 I 7 I 8 I 9 I 10 I 11
PAGE 8

"THE BROWN BUNNY" BLOWS...
"WATERMARK" WATERLOGGED...
LA CHUNGA ROCKS!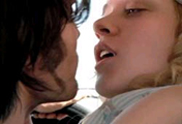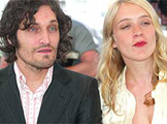 Vincent Gallo and Chloe Sevigny in "The Brown Bunny" and in Cannes
The easiest film-in-competition to write about without seeing would be "The Brown Bunny." Everyone who saw it and didn't see it was talking about how awful it was. How "self-indulgent"! How "disgusting"! The worst part was the blow-job scene! Blow-job scene? Wait a second.; this was starting to sound interesting… But alas, we were too self-indulgent to get to the counter at 8 am to pick up tickets.
The critics threw every verbal tomato they could think of at Vincent Gallo, the hapless director and star of the film, turning him into the whipping boy for all the frustrations of the festival. Gallo accepted his punishment like a true submissive, wallowing in his shame, taking the cat o'nine tails out of the hands of the critics and whipping himself even harder with it than they did. "I accept what they say," Gallo blubbered. "It's a disaster and a waste of time … I thought I had something beautiful that I could share with other people. I can only apologize to those who feel they have wasted their time It was never my intention to make a pretentious film, a self-indulgent film, a useless film, an unengaging film… " Gallo managed to "apologize" in such a way as to embarrass everyone, including the critics, but especially his former girlfriend and co-star Chloe Sevigny who burst into tears at the premiere as the cinema emptied and those remaining in their seats guffawed and booed, another charming Cannes tradition.
At least, Sevigny had the nerve to admit to the press that the notorious final fellatio scene was for real. "It wasn't that bad for me," she said. According to all reports, Gallo's a member of Hung Hollywood (maybe that's why they panned him--penis envy!). Now I really want to see "The Brown Bunny"…when it comes out on video, which probably will be soon.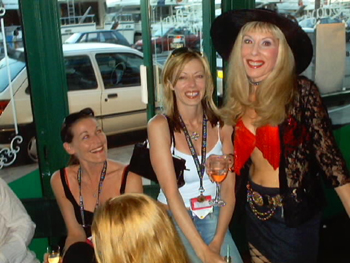 Ruth McDonald and Kyah Sautelle, stars of "Watermark" at The Cannes Press Club Soirée... Photo: Max
So much for a movie we didn't see. Though sometimes it's better that way. We were very excited when we were personally invited by the stars of "Watermark" to their grand premiere. Ooh-la-la! The adorable lead actor and two lovely actresses were among the first to arrive at Quay's for the Press Club Soirée. They were delightful young Aussies, happy to be in Cannes and to have gotten hold of three much sought-after invitations to the Press Club Soirée, so happy that they invited us to their opening which, since it was part of the Directors' Fortnight, a très important programme du Festival, we figured had to be at least a fairly decent. We were wrong. "Watermark" was a sodden rag. It was part of the irony of Cannes that here we were, guests of the stars of a featured film in a prestigious program, and we couldn't even go up and congratulate them because we didn't have anything nice to say about their film (well, we wish them the best on their next ventures!). We slunk out the back door of the theater, retreating into the comforting decadence of the Carlton Hotel terrace to wring out our waterlogged synapses with very dry martinis and Provençal olives.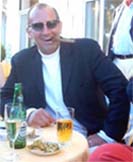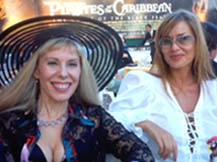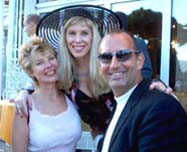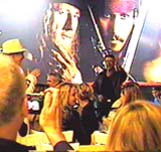 Richard, Sally, Marianne and the Opera Singer on the Carlton Terrace ... Photso: Max
On the Carlton Terrace, the Strollerama of Cannes pauses for refreshment. Gorgeous ladies (Are they actresses? Models? Hookers?) and men dressed in purple suits, white suits, peach-colored suits, everything but a standard dark blue, brown or black suit (unless, of course, it's a tux), prevail. Much drinking, congratulations, reunions, photos, star-spotting, flirting, smoking and more drinking ensue under the setting sun and the colorful posters heralding this or that coming cinematic attraction. Suddenly, a man stands up, taps his champagne glass with a spoon, and the high-decibal buzz drops down to a murmur. The man, poised beneath a poster heralding "Pirates of the Caribbean," takes a deep breath, then bursts into glorious song, and if I knew more about opera, I could tell you what song. But I can say that it was top notch singing, most exhilarating, a quintessential Cannes non-sequitor that made total sense. Apparently, the other martini-sippers at the Carlton agreed, because the fellow received two encores and a warm shower of applause.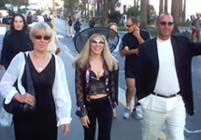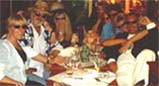 Stopping at Tantra; Eating and Playing with our Food at La Grosse Tartine
After our drinks at the Carlton, our buddy, mogul-in-the-making Richard Novey, took us and about a dozen close friends to a delicious dinner at La Grosse Tartine, and then dancing on tables and chairs at La Chunga, a spectacular and intimate Cannes tradition.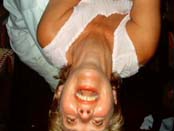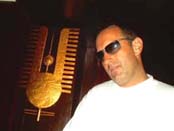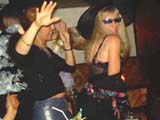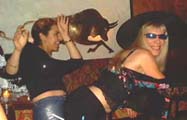 Dancing on tables and chairs at La Chunga
CANNES RELOADED
in 10 pages
1 I 2 I 3 I 4 I 5 I 6 I 7 I 8 I 9 I 10 I 11
PAGE 8

THE CANNES PRESS CLUB



E-MAIL US TO ADVERTISE
CANNES: 33 (0) 699962410
LOS ANGELES: 213.749.1330

VISIT THE CANNES PRESS CLUB
YAHOO GROUP: MEMBERS ONLY

CANNES PRESS CLUB FRONTPAGE
THE CANNES PRESS CLUB
welcomes contributions from
Cannes Press Club Members and
Residents of The Riviera
BLOCK PUBLISHING GROUP






ONLINE JOURNALS




Dr. Susan Block's
Travels with Max


GOOD LIBATIONS







RADIO & TV



BOOKS ONLINE