PRESS CLUBS


THE LA PRESS CLUB






LODGING & PROPERTIES


TOURISM


QUAY'S IRISH PUB


EL TEATRO CABARET
& RESTAURANT


EQUIPMENT



continued from previous page
CANNES RELOADED
IN 11 PAGES
1 I 2 I 3 I 4 I 5 I 6 I 7 I 8 I 9 I 10 I 11
PAGE 3

CANNES PRESS CLUB SOIRÉE FOREPLAY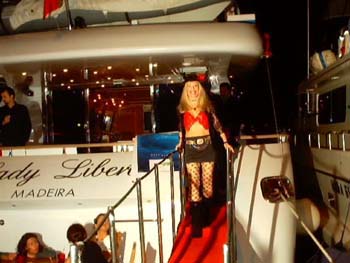 The Lady Liberty, unofficial Cannes Press Club yacht
We were opening the Cannes Press Club for all of them, for all of us. And, despite our terribly opinionated selves, we were determined not to let the club get tied up by any particular political views, except (of course) freedom of the press. Nevertheless, we had to get off our high horse for just a moment to pick a spot for our new Cannes Press Club to meet and drink. Since the Irish are known for good journalism, heavy drinking and speaking something like English, we decided to hold our first Soirée at our beloved Cannes watering hole, Quay's Irish Pub. Also, for reasons probably having to do with its soggy weather and strict mores, Ireland seems to have lost an inordinate number of its kin to Cannes, including our Director Dèirdre.
We settled on soirée logistics with Matt (remember Matt, the intrepid Anglo who won the "Find Osama" contest at our "Art Bombs" opening at El Teatro?) and our other bartender buddies at Quay's over a round of Guinness. Then we set about the important business of inviting people. Invitations were designed by Max the Bot-ler and printed up for distribution by Thierry the Artist among "beautiful women, important-looking men and people who look like journalists."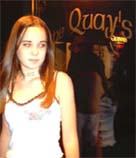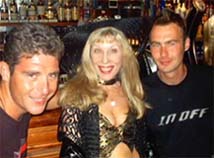 Aspiring Model Sarah Mooney... Photo: Suzy..................... With Matt & Kit ... Photo: Max
You could tell the journalists by their badges, if you looked carefully and had the mind of a German librarian. There were approximately 4000 accredited journalists scurrying around the festival, each of whom sported one of about 50 kinds of badges, all of whom seemed to be treated by the film publicists and festival officials (we called them "Cannes Information Ministers") with varying gradations of contempt, except for the highest level (pink with gold speckles--or was it gold with pink stripes?) who had to bear the simmering resentment and occasional sabotage of their peers with lowlier badge colors.
Speaking of which, while I was there at the Cannes Film Festival, I thought I'd take in a few of the films in competition. This proved to be trickier than I'd imagined. Apparently because I do most of my film reviewing on-line, deemed lowliest of the lowly by the sages of the Festival Publicity Department (and perhaps too, though this could never be confirmed, because I happen to be a notorious sex educator), I was cordially denied official Film Festival press credentials.
I tried not to let this immense handicap impede my pleasures nor my efforts to launch the Press Club in style. The first night of the Festival, we dashed off to the Majestic Hotel bar, where international stars rub shoulders with local masseuses who will often rub their shoulders.




Masseuse at play and Dr. Suzy with renowned film translator Monsieur Le Pini at the Majestic Bar
We flew past the massive security (bomb threats, anyone?) with Patrick, a Man About Cannes from where else but Ireland, and with every form of Festival pass the gendarmes could desire. Inside the ornately appointed Majestic, we sipped champagne with star-watchers and rubbers, a few odd producers, screenwriters, translators and of course, journalists, as well as that notorious Majestic regular, especially around Festival time, Imogene Diamond, one of the first James Bond Girls, carrying her little dog like a handbag.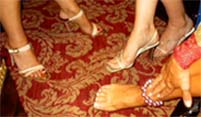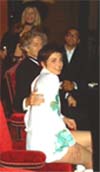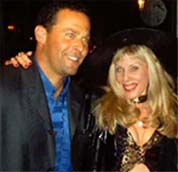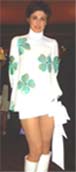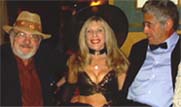 Majestic Feet and Faces: Max, Patrick, Nicole, Richard, Lorenzo Dumani, Monsieur Pini, Penelope Cruz, Imogene Diamond and dog
After a not-so-stellar opening film, a remake of an old French movie that was said to be pretty middling to begin with, "Fanfan La Tulipe," starring Penelope Cruz in this latest incarnation, it seemed the Cannes Press Club Soirée would be the hottest ticket in town.
CANNES RELOADED
IN 11 PAGES
1 I 2 I 3 I 4 I 5 I 6 I 7 I 8 I 9 I 10 I 11
PAGE 3

THE CANNES PRESS CLUB



E-MAIL US TO ADVERTISE
CANNES: 33 (0) 699962410
LOS ANGELES: 213.749.1330

VISIT THE CANNES PRESS CLUB
YAHOO GROUP: MEMBERS ONLY

CANNES PRESS CLUB FRONTPAGE
THE CANNES PRESS CLUB
welcomes contributions from
Cannes Press Club Members and
Residents of The Riviera
BLOCK PUBLISHING GROUP






ONLINE JOURNALS




Dr. Susan Block's
Travels with Max



GOOD LIBATIONS







RADIO & TV



BOOKS ONLINE