PRESS CLUBS


THE LA PRESS CLUB






LODGING & PROPERTIES


TOURISM


QUAY'S IRISH PUB


EL TEATRO CABARET
& RESTAURANT


EQUIPMENT



continued from previous page
CANNES RELOADED
IN 11 PAGES
1 I 2 I 3 I 4 I 5 I 6 I 7 I 8 I 9 I 10 I 11
PAGE 10

GIANT ReMASTERED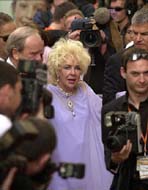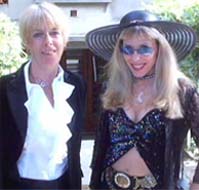 Liz, Dèirdre and I attend the Premiere of "Giant" Remastered for US DVD
If Persephone really wanted to understand passion, both feeling it and stirring it up in others, she should have dispensed with Neo and Trinity, and turned to the Passion Queen herself: Elizabeth Taylor.
Is Liz "The One"--the real One? Who knows, but at the gala premiere of "Giant" (remastered for the US DVD market), she reminded me of the Pope. Dame Elizabeth and His Holiness don't have the same physical problems; he's got Parkinson's and she's got chronic back pain plus a host of other ailments. And they certainly occupy different positions in the pantheon of world stars, but both engender tremendous passion (the Latin for "passion" is passio which means "suffering") in their fan base, despite or even because of their frailties and refusal to be limited by them. Plus, both, for rather different reasons, find themselves defending the gay men who consider them divine.
Beatific in lavender reflecting those immortal violet eyes, her light hair fluffed up like a halo around her weary but angelic face, La Liz moved ultra-slowly, having just cracked a rib upon her arrival in Cannes when an over-zealous aid gripped her delicate frame a bit too passionately. Emerging from her car, flanked by other aids (presumably the rib-cracker was relieved of his duties), she stepped carefully onto the red carpet at the entrance to the Olympia Theater, grabbed the arm of George Stevens, Jr. (son of the film's producer/director), and waved gamely at a couple of hundred cameras snapping her image in a blast of light worthy of Shock and Awe, or at least "The Matrix" fireworks display, as reporters and fans called out her name. She was followed by a young lady carrying her little dog on a pillow, an affectation that must have been eaten up like crème brulée by those pooch-loving French.
"Giant" is a monster of a movie. Almost four hours long, spanning some three decades of life within a big, sprawling, brawling family in the 10-gallon state of Texas, it stars Liz, Rock Hudson and James Dean in larger-than-life (and in Dean's case, a little over-the-top) performances that shine like oversized jewels in the Lone Star desert. Rumors have it that Rock and Dean had giant-sized battles, constantly being cooled down by caring Liz. Rumors within the rumors have Dean in an affair with producer Samuel Goldwyn. Who knows? What we do know is that Dean was killed in a car crash towards the very end of shooting "Giant," cementing his immortality as a symbol of defiant youth.
Despite or perhaps because of the conflicts, "Giant" is wonderfully satisfying, entertaining and provocative in that Old Hollywood way. It's the kind of movie that makes you think, but not, à la "Matrix," in order to figure out what's going on. You know what's going on. There's no doubt as to who's who and what's what. Humans are human, cows are cows and oil is oil, nothing more mysterious. "Giant" makes you think about its larger themes of love, family, aging, geography, culture, race, economics, and, of course, politics. Though it gets them into trouble, "Giant" characters generally say what they think. Like when Liz reads up on her paramour's home state, then chirps, "We really stole Texas from Mexico, didn't we?" Some of the movie's deepest thoughts are about the power of oil, how it runs the "machines," how it makes men rich and drives them mad. Though the film was made in 1956, it sheds more light on America's current 10-Gallon President than any recently made movie I've seen.
The only thing the characters in "Giant" don't speak frankly about is sex. But it's loaded with sexual innuendo. Liz Taylor chewing a piece of bacon in "Giant" is more erotic than the Merovingian bringing a hot blonde to orgasm by feeding her code-laced chocolate cake, not to mention Neo and Trinity chewing on each other's lips, in "The Matrix Reloaded." "Giant" doesn't have any transsexual connotations, of course, but just knowing that Rock was gay and Dean was bi, does give the old picture an edge.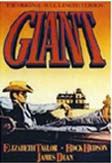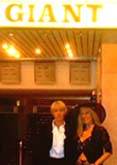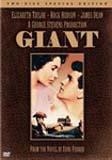 Dèirdre and I between GIANTS after the premiere
CANNES RELOADED
IN 11 PAGES
1 I 2 I 3 I 4 I 5 I 6 I 7 I 8 I 9 I 10 I 11
PAGE 10

THE CANNES PRESS CLUB



E-MAIL US TO ADVERTISE
CANNES: 33 (0) 699962410
LOS ANGELES: 213.749.1330

VISIT THE CANNES PRESS CLUB
YAHOO GROUP: MEMBERS ONLY

CANNES PRESS CLUB FRONTPAGE
THE CANNES PRESS CLUB
welcomes contributions from
Cannes Press Club Members and
Residents of The Riviera
BLOCK PUBLISHING GROUP






ONLINE JOURNALS




Dr. Susan Block's
Travels with Max


GOOD LIBATIONS







RADIO & TV



BOOKS ONLINE