PRESS CLUBS


THE LA PRESS CLUB






LODGING & PROPERTIES


TOURISM


QUAY'S IRISH PUB


EL TEATRO CABARET
& RESTAURANT


EQUIPMENT



continued from previous page
CANNES RELOADED
IN 11 PAGES
1 I 2 I 3 I 4 I 5 I 6 I 7 I 8 I 9 I 10 I 11

BELLA BELLUCI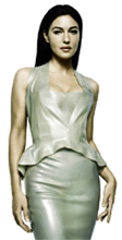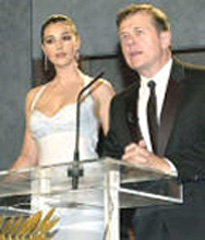 Monica Belluci as Persephone in "The Matrix: Reloaded" and opening the Cannes Film Festival with Patrice Chéreau
If the Cannes Film Festival were a Big Game, then the Homecoming Queen for 2003 would be Monica Bellucci. A sensuous luminary of Italian, French and now Hollywood cinema, the beautiful Bellucci officially opened and closed the 56th Festival du Film with Jury President Patrice Chéreau, upholding the Cannes tradition of having a lovely young actress assist whatever frumpy middle-aged man is running the show.
The great heist of the festival was the theft of Bellucci's dress. Sorry, not while she was wearing it. The $180,000 gown of spun gold that the actress wore in "Asterix & Obelix: Mission Cleopatra" was stolen from the Martinez Hotel where it was on display. The thief was a waiter who confessed to police that he had coveted the dress as a gift for two young ladies he had met that day. Sounds like the plot for a romantic screwball comedy that I'm sure some filmmaker somewhere is already planning to develop.
Bellucci reigns over the "Matrix Reloaded" as Persephone, the Hillary Clinton of the Underworld, long-suffering wife of the philandering Merovingian. Like all the more intriguing "Matrix" characters, Persephone is not human. She's pure software, a sultry, curvaceous hell-goddess pouring like fine French cream into a stunning, cleavage-friendly, retro-futuristic, silvery-chartreuse latex dress that I'm sure some klepto-romantic waiter somewhere is already planning to steal.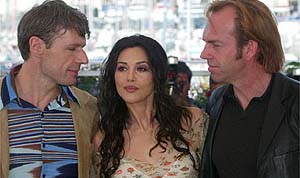 Lambert Wilson, Monica Belluci and Hugo Weaving heat up the "Matrix: Reloaded" Press Conference
Of all things or people, the hyper-feminine Persephone is jealous of the androgynous Trinity. Persephone wants the passion that Trinity (supposedly) has. She asks Neo to kiss her like he kisses Trinity, so she'll know what it means to feel human passion. The first kiss is obviously passionless; the second is longer but (in this viewer's opinion) not much stronger. Probably because it was the 56th take and her lips were getting chapped, Persephone accepts Neo's second kiss and lets the Zionists pass into her Underworld where she gives them the keys to more than they probably deserve.
CANNES RELOADED
IN 11 PAGES
1 I 2 I 3 I 4 I 5 I 6 I 7 I 8 I 9 I 10 I 11
PAGE 9

THE CANNES PRESS CLUB



E-MAIL US TO ADVERTISE
CANNES: 33 (0) 699962410
LOS ANGELES: 213.749.1330

VISIT THE CANNES PRESS CLUB
YAHOO GROUP: MEMBERS ONLY

CANNES PRESS CLUB FRONTPAGE
THE CANNES PRESS CLUB
welcomes contributions from
Cannes Press Club Members and
Residents of The Riviera
BLOCK PUBLISHING GROUP






ONLINE JOURNALS




Dr. Susan Block's
Travels with Max


GOOD LIBATIONS







RADIO & TV



BOOKS ONLINE