PRESS CLUBS


THE LA PRESS CLUB






LODGING & PROPERTIES


TOURISM


QUAY'S IRISH PUB


EL TEATRO CABARET
& RESTAURANT


EQUIPMENT



continued from previous page
CANNES RELOADED
in 10 pages
1 I 2 I 3 I 4 I 5 I 6 I 7 I 8 I 9 I 10 I 11
PAGE 4

MATRIX DU CANNES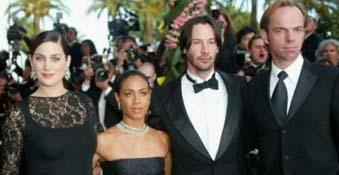 "Matrix: Reloaded" Stars Carrie-Anne Moss, Jada Pinket Smith, Keanu Reeves and Hugo Weaving at the Cannes Premiere
Night #2 opened another movie out of competition, an American film that was already generating long lines to hundreds of theaters around the world, just hours before the stars strode up the crimson carpet at Cannes and the fireworks popped around us. Of course, this wasn't the premiere of anything original, just a sequel, but a sequel attuned to our digital-reality times: "Matrix: Reloaded."
I enjoyed the first "Matrix," especially all the computer allusions and hot leather outfits, but wasn't an avid fan, especially of all the righteous ass-kicking and videogame-style shooting. Yet somehow, due to forces beyond my control (aren't they all?), I wound up seeing this one twice: first in French, then in English. How's that for "Reloaded"? And, except for those long academic monologues, which utterly lost me en français, I preferred my "Matrix" in French.
Not that my French is very good; pas du tout. Which is just the point. Too much comprehension puts "The Matrix: Reloaded" into overloaded. For instance, I really dug the orgy scene at Zion when I could barely comprehend the stilted Trekkie dialogue between the sunglassed, sci-fi Zionists. In English, they really bugged me, especially Morpheus (Lawrence Fishburne) and his messianic speechifying, which is creepily close to stuff Dubya says, minus the squeaky Texas twang. Morpheus' sonorous oratory, "This is a war and we are soldiers. What if tomorrow this war could be over? Isn't that worth fighting for? Isn't that worth dying for?" sounds like it was written by Karl Rove for Bush to keep the troops--and voters--psyched for Perma-War.
In French, I enjoyed all of this, mainly because I couldn't understand half of it. Thus, I could just relax and take in the orgy, with all those sexy, leaping, writhing, near-naked bodies intercut with Neo (Keanu Reeves) and Trinity (Carrie-Anne Moss) making fairly credible love while flexing tender muscles with nifty metallic ports embedded into their flesh. Is this where "embedded" journalism is taking us? Into a Media Matrix where governments will feed information directly into reporters' brains? Seriously, those fleshly portholes are so cool-looking, soon we'll be seeing skintight, see-through body suits studded with ersatz body-ports strutting down the runways of Paris and the sidewalks of Cannes.
Ironically enough, one of the few scenes I liked better in English than in French was the one with the French guy, that is, the Merovingian (Lambert Wilson), one of the better actors in the movie, with one of the best throwaway lines when he says that cursing en français is like "wiping your ass with silk." Ooh la-la…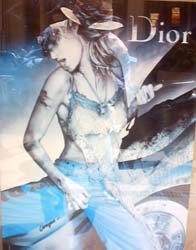 Sex Sells Everything ... Photo: Max
CANNES RELOADED
in 10 pages
1 I 2 I 3 I 4 I 5 I 6 I 7 I 8 I 9 I 10 I 11
PAGE 4

THE CANNES PRESS CLUB



E-MAIL US TO ADVERTISE
CANNES: 33 (0) 699962410
LOS ANGELES: 213.749.1330

VISIT THE CANNES PRESS CLUB
YAHOO GROUP: MEMBERS ONLY

CANNES PRESS CLUB FRONTPAGE
THE CANNES PRESS CLUB
welcomes contributions from
Cannes Press Club Members and
Residents of The Riviera
BLOCK PUBLISHING GROUP






ONLINE JOURNALS




Dr. Susan Block's
Travels with Max



GOOD LIBATIONS







RADIO & TV



BOOKS ONLINE