continued from previous page
CANNES HEAT
by Dr. Susan Block
IN 10 PAGES
1 I 2 I 3 I 4 I 5 I 6 I 7 I 8 I 9 I 10

PAGE 2

Fire & Ice

Fire and Ice ... PHOTOS: MAX
Hot or not, Cannes has a way of making you feel special just for being there. Shortly after our Air France flight (featuring the finest French cuisine above the clouds) touched down, we were greeted with a glorious burst of fireworks over the shimmering Port du Cannes, complete with soaring musical accompaniment and a bevy of yachts and sailing ships honking their horns at the finale. It was the German entry into the Cannes Festival International D'Art Pyrotechnic, but it felt like a warm BIENVENUE just for us.
Half a dozen countries, including Italy, Great Britain, Holland, Germany and France participated in Cannes' state-of-the-art "feux d'artifice" festival. But there was no entry from the US. Perhaps the lack of fire in these days of heat was more evidence of cooling relations between France and the States. After all, America had held its own kind of fireworks over Baghdad a few months earlier.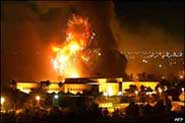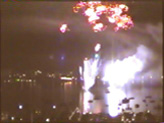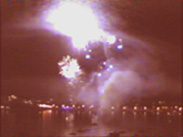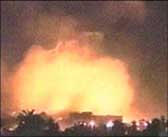 Baghdad and Cannes: Two Kinds of Fiery "Awe" that Look Eerily Similar. One Destroys; the Other Delights. Take Your Pick... But Can You Tell Which is Which?
Fortunately, the "Shock and Awe" in Cannes was spectacularly harmless. No bombs, no missiles, no nuclear bunker busters, no body parts exploding; just sparkling patterns of vibrant color against the summer night, orgasms for the eyes.
But back to that heat. Nothing beats it like an ice-cold drink. Unfortunately, the term "ice-cold" is not very common in France, where the central air-conditioning and super-freezers Americans are accustomed to are quite rare. Restaurants do have ice, though you have to request it-nicely. "Glaçons, s'il vous plaît" was our most frequent order.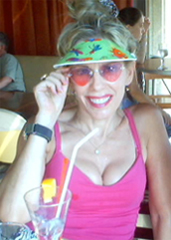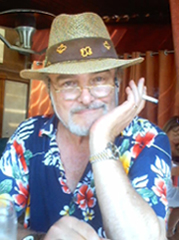 Smoking and sipping La Croisette avec Glaçons at Cannes' corner hotspot Farfalla
Even the finicky French understood when we dropped the precious cubes into their fine wines (mais pas le champagne!).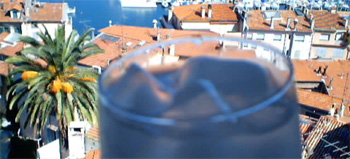 Piscine du Vin ... PHOTO: MAX
When the ice melts into the wine, inevitable in record-breaking heat, the French drolly refer to the drink as a piscine (swimming pool).
CANNES HEAT
by Dr. Susan Block
IN 10 PAGES
1 I 2 I 3 I 4 I 5 I 6 I 7 I 8 I 9 I 10
PAGE 2

CLICK HERE TO JOIN
THE CANNES PRESS CLUB


M O R E


DON'T MISS
CANNES RELOADED
for the 56th time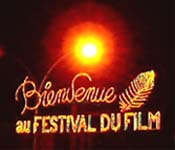 The Cannes Press Club Opens
At The Cannes Film Festival
amidst stars, fireworks & heavy drinking!

E-MAIL US TO ADVERTISE
CANNES: 33 (0) 699962410
LOS ANGELES: 213.749.1330

VISIT THE CANNES PRESS CLUB
YAHOO GROUP: MEMBERS ONLY

CANNES PRESS CLUB FRONTPAGE
THE CANNES PRESS CLUB
welcomes contributions from
Cannes Press Club Members and
Residents of The Riviera
FOR REPRINT RIGHTS, PLEASE EMAIL US
BLOCK PUBLISHING GROUP
8306 Wilshire Boulevard Suite 1047
Beverly Hills, California 90211 USA