CANNES HEAT
by Dr. Susan Block
IN 10 PAGES
1 I 2 I 3 I 4 I 5 I 6 I 7 I 8 I 9 I 10
PAGE 6



Saint-Tropez: Beachtown in Heat

Caroline Neel, Thierry Chevrollier, Christian Neel, Dr. Susan Block, Claude Martinot, Femme
The traffic was so slow, we didn't get to the opening until it was ending, but that still gave us time to soak up the dazzling hues of Christian Neel's "Feux D'Artifice" exhibit. Claude Martinot, organizer of the show, welcomed us so warmly, we felt like international dignitaries, instead of the horribly late, sweaty, salty boat people that we were.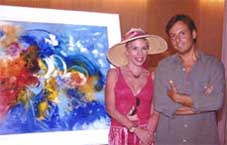 Dr. Suzy with Feux D'Artifice Artist Christian Neel. . Gerald Hardyand other guests of the Château Hôtel de la Messardière
It was a bit too late to tour the grounds of the Château Hôtel de la Messardière, known as the "Versailles of Saint-Tropez" with it's acres of lush pines (thankfully not charred to a crisp, like so many of the hills on the way to Saint-Tropez) and Provençal gardens surrounding a 19th century fairy tale castle, restored in 1989 with a distinctive late 20th century finish to its Belle Époque design.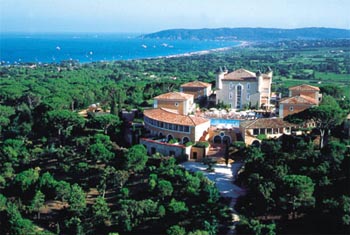 "The Versailles of Saint-Tropez": Hôtel de la Messardière
We did get a chance to stroll the halls hung with a variety of art exhibits, including the marvelous Byzantine-style Tarot Card paintings of Victoire de la Messardière, whose distinguished ancestor Henri Brisson de la Messardière was the original owner of the luxurious Chateau. Then, we had drinks on the patio by the emperor-size pool, stalked by some of the most gorgeous, scantily clad women in the world.
Where to next? We were exhausted, but just had to do a bit more Saint-Tropez before the endless drive back. We were invited to Nicky Beach, Saint-Tropez' answer to l'Oasis, but our company was a bit squeamish, so we opted for a tour of the famed Vieux Port. Here we were greeted with the sights, sounds, smells and sweat of a beachtown in heat in more ways than one, a souped up, 21st century version of a medieval fishing village, with cobblestone streets and space age yachts, with clubs and shops of every kind open until all hours, as nighttime temperatures soared into the Fahrenheit triple digits (that's surpassing 38 degrees Celsius for you Euros).
The Port at night in Saint-Tropez is rather like a debauched zoo, but it's hard to say who are the zoo animals and who the people: the folks in the giant private party yachts with their twinkling lights and multiple amenities, or the teeming crowds onshore not even bothering to pretend not to ogle the cork-popping yacht-dwellers who stared, quite blatantly, back at them. Every so often, a burly fellow would swoop a gorgeous young tanned and giggling lady, teetering on her stilettos and falling out of her sequined camisole, past the "PRIVÉ" ropes and up onto one of the floating pleasure palaces where presumably she would be wined and dined like Mediterranean royalty for a couple of hours, or perhaps a week, or a summer cruise, or maybe a movie contract.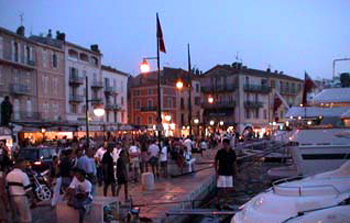 Vieux Port, Saint-Tropez--What a Zoo! Are the animals in the yachts are on land?
Speaking of which, where were the Movie Stars? Well, just like Cannes in May, in summertime Saint-Tropez, the IDEA of Movie Stars is always in the air, even if you never see any actual Movie Stars waving from their yachts or emerging from their rented Mercedez.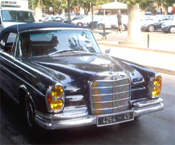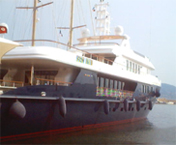 Who's in that vintage Mercedez? Who's on the yacht? ... PHOTOS: MAX
One Cannes Press Club member was writing an article for a British newspaper about how Saint-Tropez is supposedly going downhill and nobody (including the Movie Stars) wants to go there now because of "drugs." We doubt that "drugs" would discourage the kind of cosmopolitan party people who like to go to Saint-Tropez. More likely, it's the drooping dollar, and the burned hills. And the heat! This heat would chase any self-respecting Movie Star clear into Iceland. Nevertheless, there didn't seem to be any scarcity of gorgeous specimens hanging off of yachts and emerging from Mercedez and Bentleys at the port, even if none of them looked quite familiar. The port was a glut of humanity, sticking to each other's designer skimpies in the vibrant night heat. And all the hotels-posh and downscale-were full.
As for those living legend Movie Stars, well, of course, they don't flock to Saint-Tropez like they did in the Fab '50s or Swinging '60s. But they still come to the area, usually ensconcing themselves in extremely private estates far from anyone without a helicopter.
Brigitte Bardot is still there, and the place is infused with her sensuous, playful spirit. Bardot galleries and BB clothing stores proliferate. Bardot is the most famous European sexpot movie star of the twentieth-century. She has been depicted as a French Marilyn Monroe, but sultrier, tougher and more bohemian than Monroe. Like Monroe, she led a tempestuous life, privately and publicly, beloved and vilified for her dramatic sexuality. Unlike MM, BB is a survivor. Reclusive with her beloved animals, but still around, she's the Living Saint of Saint-Tropez.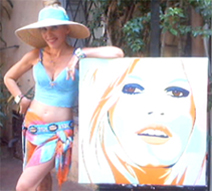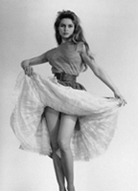 Brigitte Bardot: Patron Saint of Saint-Tropez
Poster from Sasha & Una at the Vuk & Una Gallery
Then there's Johnny Depp, stealing the summer show as the goofy but sly, drunkenly swashbuckling Captain Jack Sparrow in Disney's "Pirates Of The Caribbean: The Curse of the Black Pearl." Between films and trips to Paris, Johnny lives near Saint-Tropez, in a Saint Aygulf farmhouse with French singer-actress Vanessa Paradis and their two young children, Lily Rose Melody and Jack. And despite the Dixie Chicks backlash from Americans out to squelch the First Amendment, Johnny isn't shy about stating his views of his native country's Mesopotamian adventure.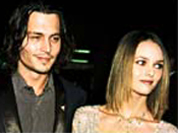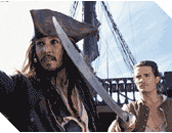 Johnny Depp with Vanessa Paradis and as Captain Jack Sparrow in Disney's "Pirates Of The Caribbean: The Curse of the Black Pearl."
"I saw these American kids being shipped off to war, and I was looking at their faces and thinking, they're not ready for it." Johnny told Gregory Katz of USA Weekend.. "Is anybody ever ready for it? You're thinking about where they're going, what they're getting into. What's it really all about? It's about dough; it's about money. That's ugly."
Johnny also likes to sing praises of the French. "I love America -- I love going back, seeing my family and friends, but it's wonderful to get back to France and be living in a tiny village with nothing around. There is still the possibility to live a simple life. You can go to the market, walk about, buy fruits and vegetables -- the things they did 100 and 200 years ago."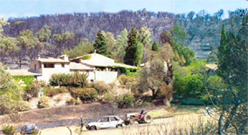 Johnny's house in Saint Aygulf, and with Vanessa, Lily Rose Melody and Jack
A product of the rural Florida and Kentucky who spent many years clubbing with Winona Ryder and Kate Moss in Hollywood, Johnny never really felt at home until he moved to France. He rejects the view that there has been a surge of anti-Americanism there because of opposition to the U.S.-led war in Iraq and believes the French have behaved in a dignified manner while some Americans have resorted to "schoolyard tactics" by renaming French fries "freedom fries."
"That was so revealing, that grown men sat around and came up with that idea," he says of the freedom fries initiative. "It was tragic and embarrassing. At the same time, I was happy it was exposed, and people knew that a bunch of congressmen -- big people, the upper-drawer people -- made that decision."
Thanks to some very heroic "little people"--the local Saint Aygulf firefighters-- Johnny and Vanessa's villa narrowly escaped becoming a smoldering heap of French-fried ash like so much of the rest of the area.

Var firefighters battle the flames of the Riviera Terrorist-Arsonist of the Summer of 2003
CANNES HEAT
by Dr. Susan Block
IN 10 PAGES
1 I 2 I 3 I 4 I 5 I 6 I 7 I 8 I 9 I 10
PAGE 6



CLICK HERE TO JOIN
THE CANNES PRESS CLUB


M O R E


DON'T MISS
CANNES RELOADED
for the 56th time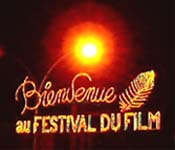 The Cannes Press Club Opens
At The Cannes Film Festival
amidst stars, fireworks & heavy drinking!

E-MAIL US TO ADVERTISE
CANNES: 33 (0) 699962410
LOS ANGELES: 213.749.1330

VISIT THE CANNES PRESS CLUB
YAHOO GROUP: MEMBERS ONLY

CANNES PRESS CLUB FRONTPAGE
THE CANNES PRESS CLUB
welcomes contributions from
Cannes Press Club Members and
Residents of The Riviera
FOR REPRINT RIGHTS, PLEASE EMAIL US
BLOCK PUBLISHING GROUP
8306 Wilshire Boulevard Suite 1047
Beverly Hills, California 90211 USA