CANNES HEAT
by Dr. Susan Block
IN 10 PAGES
1 I 2 I 3 I 4 I 5 I 6 I 7 I 8 I 9 I 10
PAGE 8



Saint-Tropez Reloaded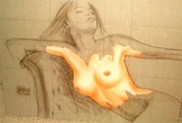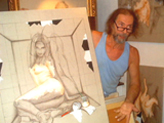 Saint-Tropez Artist Serge Contat... PHOTOS: SUZY
The next day, Claude invited us back to Saint-Tropez for a daytime tour of some of her favorite galleries and a couple of chats with the local paper (Pascale Peu of Var-Matin) and radio station (Radio Saint-Tropez). This time, determined to forego the eternal and disturbing drive, we caught the train from Cannes to Saint-Raphaël (20 minutes), then hopped on the ferry (about an hour) through enchanting tropical breezes to Vieux Port, Saint-Tropez. All in all, it was a much more humane route than winding inch by inch through French-fried hills in an endless line of cars.


Les Bateaux de Saint-Raphaël & Saint-Tropez. . Dr. Suzy's belt by Monkilele Creations of Cannes... PHOTOS: MAX, THIERRY & SUZY
But as soon as we touched shore, the sweet breezes stopped and the full force of the hottest day of the hottest French summer in history hit us in the face like a blast from a busted furnace.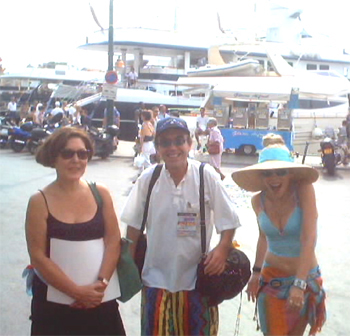 We arrive at the Port of Saint-Tropez (Claude Martinot with Thierry & Dr. Suzy).. PHOTO: MAX
So, the first order of business was to get a fan, and right near the port at Solenzara, we found a beautiful hot pink batik fan that doubles as a hat.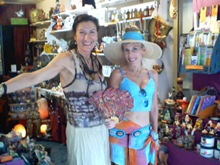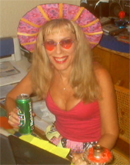 With Muriel at Solenzara where we got the fabulous fan that doubles as a hat ... PHOTOS: MAX
Then we popped into the super-chic Bodega Restaurant for refreshing salades niçoises and the essential rosé avec glaçons.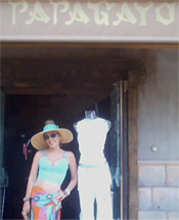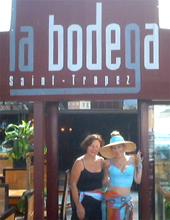 At Papagayo and la Bodega, Hot Spots of Saint-Tropez ..... PHOTOS: MAX
Claude arrived to whisk us off into the quaint cobblestone artists' district where we ogled lovely nudes and erotic art.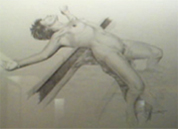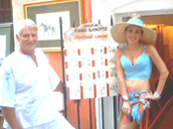 Claude Lamotte ... PHOTOS: MAX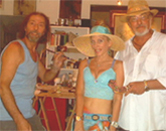 ...Serge Contat .. PHOTOS: MAX & THIERRY
We also ogled the pedestrians. Where else but in Saint-Tropez do the people walking on the street look better than the models on the billboards?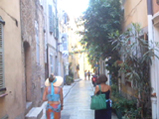 models on billboards and cobblestone streets .. PHOTOS: MAX
Then it was time for our interviews: first Var-Matin, then Radio Saint-Tropez. Since the interview was entirely en français, I'm only half-sure of what anyone was talking about, including myself.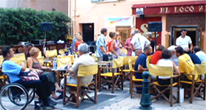 Interview on Radio Saint-Tropez at El Loco Zen with Marie Louise, Louis-Luc and Laetitia PHOTOS: MAX
I know we talked about The 10 Commandments of Pleasure (Les 10 Commandements du Plaisir), and everybody's favorite seemed to be Men's #10. Tu avaleras! After all, the heat makes you thirsty… Louis-Luc, the male host, was très debonair, and Marie Louise, the female host, was one of the most charming interviewers I've ever had, probably because I couldn't understand 50% of what she was saying. She seemed to enjoy my French fumblings, as well as modeling my fan-hat and fingering my original Art Glass Dildo.




Signing Les 10 Commandments du Plaisir; Marie Louise models the Fan Hat and Pascale Pleu of Var Matin asks Thierry to show his credentials .. PHOTOS: MAX
And then there was Claude, such a delightful, indefatigable guide through the maze of galleries and media of Saint-Tropez. The least we could do was give her an original Dr. Suzy Special Art Glass Dildo. Being an art curator, we knew she would appreciate it. Many people in the El Loco Zen audience appreciated our message of Ethical Hedonism, especially some of the couples...







Hot Saint-Tropez Couple get inspired by Les 10 Commandements du Plaisir.
Love Astrologer Jade & Fashion Designer Santiag..... PHOTOS: MAX
CANNES HEAT
by Dr. Susan Block
IN 10 PAGES
1 I 2 I 3 I 4 I 5 I 6 I 7 I 8 I 9 I 10
PAGE 8

CLICK HERE TO JOIN
THE CANNES PRESS CLUB


M O R E


DON'T MISS
CANNES RELOADED
for the 56th time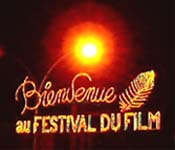 The Cannes Press Club Opens
At The Cannes Film Festival
amidst stars, fireworks & heavy drinking!

E-MAIL US TO ADVERTISE
CANNES: 33 (0) 699962410
LOS ANGELES: 213.749.1330

VISIT THE CANNES PRESS CLUB
YAHOO GROUP: MEMBERS ONLY

CANNES PRESS CLUB FRONTPAGE
THE CANNES PRESS CLUB
welcomes contributions from
Cannes Press Club Members and
Residents of The Riviera
FOR REPRINT RIGHTS, PLEASE EMAIL US
BLOCK PUBLISHING GROUP
8306 Wilshire Boulevard Suite 1047
Beverly Hills, California 90211 USA