CANNES HEAT
by Dr. Susan Block
IN 10 PAGES
1 I 2 I 3 I 4 I 5 I 6 I 7 I 8 I 9 I 10
PAGE 3

Bliss of the Bleu Bateau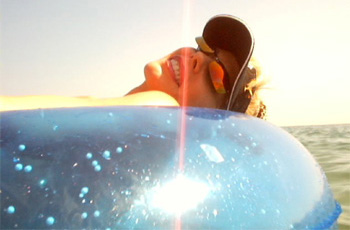 PHOTO: MAX
It was hot, and getting hotter, hot enough to fry potatoes --French, Freedom or Fritatas--on top of Max's head.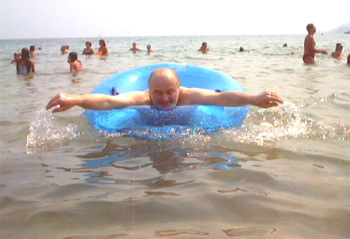 PHOTO: SUZY
We'd lined up a fabulous yachting excursion, but that wasn't for a few days, so how to chill for now? Swimming cooled you off, but mon dieu, the effort involved! Then, as soon as you lay down in the sun to do a bit of bronzing, you got hot again.




Even topless sunbathing was too hot on land... PHOTO: SUZY
There had to be a better way.




The Answer to Life in a Heavenly Place that's Hotter than Hell: just float through it in a giant blue inner tube... PHOTOS: MAX & SUZY
On our stroll to the beach, we spotted several chill-seekers toting giant, crystal clear, Côte d'Azure-blue inner tubes.




The simple ingenuity of the eminently seaworthy, comfortable design of what we dubbed the Bleu Bateau, especially the constant cooling and moisturizing system for one's rear quarters ("tushy dunking" Max called it), never ceased to delight and relax us. .. PHOTOS: MAX ..
Ah hah! Here was The Answer to Life in a Heavenly Place that was Hotter than Hell: just float through it in a giant blue inner tube, African breezes fluttering against your skin so it barely feels the beating sun, as your derrière soaks serenely in cool seawater.




Beat that Heat! ... PHOTOS: MAX
All we needed was a glass of iced rosé. Even without the rosé, this was bliss. Some say if you can just keep your head cool, even the worst heat isn't so bad. I say the same holds for the butt.




Splash me! .. PHOTOS: SUZY
Our first night after the fireworks, Boudoin and Maurice took us through the casinos, clubs and all-night shops of Antibes and Juan-Le-Pins.




Juan-Le-Pins .... PHOTOS: MAX
Later, we stopped at Quay's to tip a pint and see our buddy Matt (remember Matt, from the Art Bombs opening who found Osama and won a cap?), and met Ritchie the Harley-Davidson mechanic who proudly calls himself a "French Redneck" and talks about Memphis, Tennessee with the hushed reverence of a Wahabi speaking of Mecca.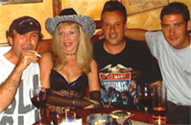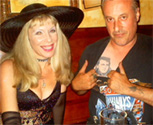 At Quay's with Richie, Matt & Thierry. And Richie shows us his Elvis tattoo. . PHOTOS: MAX
Then, it was Friday, and for voyeuristic libertines like us, no weekend in Cannes is complete without a trip to l'Oasis, our favorite libertine club on the Riviera. Of course, we can't show you photos of what went on in there. No cameras allowed in the libertine clubs or the casinos. The French love their pleasures, but they don't want you gawking at them. We journalistic shutterbugs regret this stubborn need for sexual privacy, but c'est la vie; we can't all be exhibitionists. On the way to l'Oasis, we stopped into El Teatro, home of the Art Bombs exhibit, a little artistic "Schlock and Awe" that we opened the night after "Shock and Awe." We sipped ice-wine with Momma Victoria (la chef), Daughter Candice and Cousin Leticia, and talked about the heat.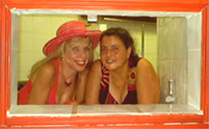 Candice& Leticia in front of Art Bombs pieces; Victoria & me in the middle . PHOTOS: MAX
Having drunk our way around Cannes and environs for three days now, we decided it was time to plan something a little more formal; that is, an evening of formal drinking, a little dancing and a lot of intense multi-lingual conversation with the Cannes Press Club.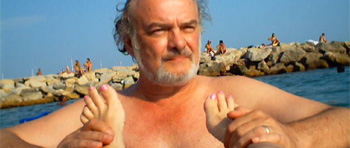 Captain Max steers the Bleu Bateau into harbor ... PHOTO: SUZY
CANNES HEAT
by Dr. Susan Block
IN 10 PAGES
1 I 2 I 3 I 4 I 5 I 6 I 7 I 8 I 9 I 10
PAGE 3

CLICK HERE TO JOIN
THE CANNES PRESS CLUB


M O R E


DON'T MISS
CANNES RELOADED
for the 56th time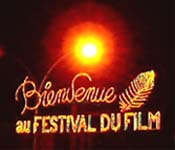 The Cannes Press Club Opens
At The Cannes Film Festival
amidst stars, fireworks & heavy drinking!

E-MAIL US TO ADVERTISE
OR CALL THIERRY CHEVROLLIER:



Téléphonez moi!
CANNES: 33 (0) 699962410
LOS ANGELES: 213.749.1330

VISIT THE CANNES PRESS CLUB
YAHOO GROUP: MEMBERS ONLY

CANNES PRESS CLUB FRONTPAGE

THE CANNES PRESS CLUB
welcomes contributions from
Cannes Press Club Members and
Residents of The Riviera
FOR REPRINT RIGHTS, PLEASE EMAIL US
BLOCK PUBLISHING GROUP
8306 Wilshire Boulevard Suite 1047
Beverly Hills, California 90211 USA