CANNES HEAT
by Dr. Susan Block
IN 10 PAGES
1 I 2 I 3 I 4 I 5 I 6 I 7 I 8 I 9 I 10
PAGE 4

Cannes Press Club Rendezvous
at The Palm Square













Michelle Delfino, Nelly Paolino of Radio Europe FM 91,, Boudoin Degaeffe, Alberto, Dr. Maurice Deroubaix of Tendance International, Brigitte Lamielle, Danielle Lamielle, Imogene Diamond, Celine Baujoirs, Bla Bla Man Thierry Chevrollier, CPC President Dr. Susan Block, CPC Director Dèirdre Mooney, David, Faure-Brac and Stephane Racdouin of Erin's Trio, Conrad Aisquith, Catherine Cummings... PHOTOS: THIERRY, MAX & SUZY
The first Cannes Press Club Soirée was a madcap media magnet, bringing together an array of international journalists, artists, writers, thinkers and drinkers to Quay's Irish Pub in the middle of the 56th Annual Festival du Film. Of course, it being the Cannes Film Festival, there were thousands of journalists and filmmakers from all over the world hovering around us for that inaugural soirée. This second gathering was in August, when there are no festivals, and everyone, except the elderly and infirm-of-wallet, is en vacances somewhere else, even though Cannes is a renowned vacances capital. Fortunately, there are always some journalists, and a multitude of artists, writers, thinkers and drinkers in and around Cannes, so we knew we'd have no problem getting together a good crowd.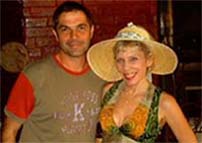 With Francis & Thierry at the Palm Square,.. PHOTOS: MAX
Feeling tropical, we decided to gather at the jungle-themed, leopard-lined lounge of The Palm Square Bar & Restaurant. We chose the Cannes Artist Marie… as our guest-of-honor.

At the Atelier of Cannes Artist Marie... featured at the Cannes Press Club Rendezvous at Palm Square ... Photo: Max
Then, we set about inviting as many Cannes Press Club members and friends of members and their dogs (no party in France is complete without a few small, well-behaved poodles) as could drag themselves through the smothering dusk to Palm Square.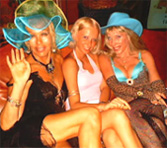 Jean Jacques Lachaux with Mousse, Imogene Diamond, Celine Baujoirs, Dr. Suzy, Angelique with Mousse ... PHOTOS: MAX & SUZY
And they came. Despite the heat--or maybe because of it--they came, they kissed...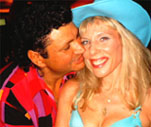 Dynam, Dr. Suzy, Marie, Sylvianne ... PHOTOS: MAX & SUZY
They smoked, they drank...




Nelly Paolino of Radio Europe FM 91, Alberto, Jenny Paul of the Riviera Gazette with Max.. PHOTOS:SUZY
Tthey danced, they sang...




Opera Tenor Eric Venezia poses with Dr. Suzy, Claude Martinot and Imogene Diamond, then bursts into song... PHOTOS: MAX
They admired Marie…'s sensuous, voluptuous sculptures...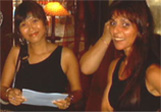 Marie...'s sculptures looked beautiful on the tables of The Palm Square... So did Marie... with Emmanuel Benichou, Jenny Paul of The Riviera Gazette, Aldo Granella, Dr. Suzy & Trang Beauvois of French Kiss .. PHOTOS: MAX & SUZY
They intently perused printouts of the new Cannes Bla Bla...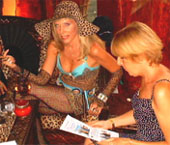 Brigitte Lamielle, Celine Baujoirs and Dèirdre Mooney, with Dr. Suzy, intently peruse the new Cannes Bla Bla ... PHOTOS: MAX & SUZY
They posed for the ever-present paparazzi...





Victoria of El Teatro, Trang Beauvois of French Kiss, JennyPaul of The Riviera Times, Dr. Suzy, Jimmy Clayton ... PHOTOS: MAX & SUZY
And, most of all, they chatted.... They chatted about the heat and how much hotter it was in so many ways just a few miles across the continent in the blazing sands of Iraq. Not wanting to offend the Americans, our French colleagues politely kept talk of Bush's Lies and America's Folly to a minimum; that is, until we informed them that though the Cannes Press Club itself does not adhere to any particular political views, except our commitment to freedom of the press, we personally were as appalled as the Dixie Chicks to have hailed from the same alma mater as the imperiously unbalanced George II. Whereupon, the French looked at us as gratefully as if we were direct descendents of Thomas Jefferson, Benjamin Franklin and Josephine Baker rolled into one.
Musically, we went eclectic.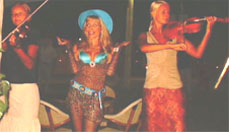 With Marie..., Matt, Pierre-Marie Chavignot, Dr. Suzy, Francis. Dr. Suzy's belt by Monkilele Creations of Cannes.... PHOTOS: THIERRY
Haunting French melodies of the 16th century by Pierre-Marie Chavignot (live on the lute) evolved into American Rock by Jimmy Bock (live on the piano) with a modern dance improvisational performance by the sultry young Cannite/New Yorker Florence Benichou. We were also spontaneously serenaded by sensational opera tenor Eric Venezia.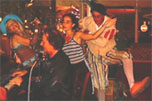 Pierre-Marie Chavignot, Florence Benichou, Jean-Mark Benichou, Jimmy Bock, Mathilde, Eddy Ray Cooper .. PHOTOS: MAX & THIERRY
We could have danced and sang and chatted and sweat like stevedores all night!




Thierry and Florence Bercoveci of Room with a View... PHOTOS: SUZY
But alas, we had a 10 am date with a yacht the next morning (pauvre nous!). So with considerable difficulty, we wrenched ourselves away from the second great soirée of the Cannes Press Club (and Francis, you still owe us that bottle of champagne!)
CANNES HEAT
by Dr. Susan Block
IN 10 PAGES
1 I 2 I 3 I 4 I 5 I 6 I 7 I 8 I 9 I 10
PAGE 4

CLICK HERE TO JOIN
THE CANNES PRESS CLUB


M O R E


DON'T MISS
CANNES RELOADED
for the 56th time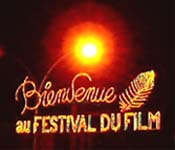 The Cannes Press Club Opens
At The Cannes Film Festival
amidst stars, fireworks & heavy drinking!

E-MAIL US TO ADVERTISE
CANNES: 33 (0) 699962410
LOS ANGELES: 213.749.1330

VISIT THE CANNES PRESS CLUB
YAHOO GROUP: MEMBERS ONLY

CANNES PRESS CLUB FRONTPAGE
THE CANNES PRESS CLUB
welcomes contributions from
Cannes Press Club Members and
Residents of The Riviera
FOR REPRINT RIGHTS, PLEASE EMAIL US
BLOCK PUBLISHING GROUP
8306 Wilshire Boulevard Suite 1047
Beverly Hills, California 90211 USA