ONLINE JOURNALS


Dr. Suzy's Travels




FOOD & DRINK


La Cambuse Gourmet


QUAY'S IRISH PUB





CANNES SERVICES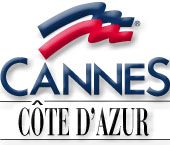 AFTER DARK


EQUIPMENT



NATURE




LODGING & PROPERTIES


Legal Services
JOHN BURTON
L . A . W

PRESS CLUBS


THE LA PRESS CLUB


The Cannes Press Club





MIPCannes
Mecca of TV Trading for Fun & Profit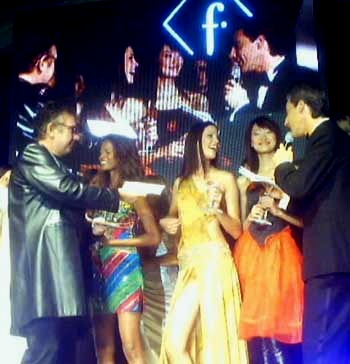 Fashion Tv Model Awards at MIPCOM Opening Cocktail. From left: FTv CEO Michel Adam, India's Tinu Verghis, Israel's Tami Tasker, China's Li Syiu and Max Montavani of JimmyZ in Monte Carlo... PHOTO: SUZY
by Dr. Susan Block
"Anyone afraid of what he thinks television does to the world is probably just afraid of the world."
Clive James, Australian critic
It was a bit of a bumpy road into Cannes for the MIPCOM this fall, commencing with missing our flight out of LAX by less than eight minutes. Well, what can you do? Air travel is bumpy business. We grabbed the next flight we could:: American Airlines, LA to Boston, then Boston to Paris, and booked EasyJet from Paris to Nice. The AA flights were a bit austere--compared to those chicly decadent Air France flights we took this past summer--but efficient and friendly. Super friendly. Deliriously friendly. The flight attendants' perpetual smiles and solicitous inquiries seemed to sing, "Hey, we may be the preferred airline of Mohammed Atta and the Shoe-Bomber, but we aren't letting that get us down, and neither should you! Thanks for choosing American!" Silly as it sounds, it worked. The flights, though packed, were blessedly pleasant.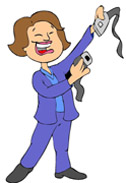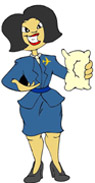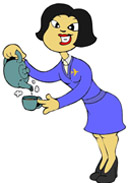 "We may be the preferred airline of Mohammed Atta and the Shoe-Bomber, but we aren't letting that get us down, and neither should you! Thanks for choosing American! Coffee? Extra Pillow? Extra Seat Belt?"
EasyJet, on the other hand, was anything but easy, and not at all friendly. Oh, it's easy enough to make an online reservation and quite inexpensive--at first. The hard part is getting there. Moreover, if you're hauling the standard amount of luggage that international travelers haul, it's just as expensive as a regular airline, and a lot more hassle. Worst of all is the nerve-wracking, damn-the-passengers attitude of some of the staff. And those eye-smarting, orange-alert-colored uniforms don't help either.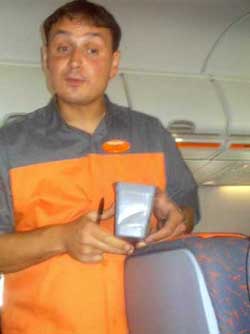 No, this is not McDonald's Airlines. This is Paolo tyrannizing
another innocent passenger on EasyJet .. PHOTO: SUZY
First, Getting There: The EasyJet terminal at Charles DeGaul Airport is a 10-30 minute bus ride away from all the main international terminals, depending on airport traffic. No taxi will take you there because "c'est trop près." But the really big snag is that the bus doesn't even stop at the terminal itself! That would be too easy. Non, non, no, C'est plus facile! You have to get off the bus at a train station, and then trudge, lugging all your luggage, about 100 meters outside and under a windy outdoor tunnel, feeling like a pathetic refugee from a wartorn land, just to get to the EasyJet terminal.
Naturally, with all that bussing, trudging and lugging, we missed our plane (even though, with two hours between flights, we thought we'd have ample time to make it), and we had to wait six more hours for the next one. Then we discovered that the easy low fare we'd paid online was just half the cost of actually flying EasyJet. You see, according to the fine print (which we confess we hadn't read), the fare price is just for you, not your luggage. Our two bags, which were well under the weight requirements for all international airlines, were 10 kilos (24 pounds) overweight, according to EasyJet "standards." So, unless we wanted to toss out our boots, books and DVDs, we had to fork over 60 euros extra (6 euros per kilo). Up against the wall like this (there's that "pathetic refugee" feeling again), we had no choice but to pay the extra cash, even as various hefty-size passengers weighing over 150 kilos--compared to our personal bodyweight of under 50 kilos--paid the lower fare because they had less luggage. Not to be insensitive to the diet-impaired, but if you're going to charge by the kilo, shouldn't the smaller, lighter passengers pay less than the big, heavy ones? Just a little airplane food for thought…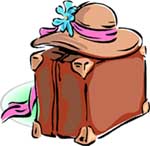 On second thought, of course, they can't do that. They'd get sued for discrimination.
All of the above indignities paled in comparison to the way we were treated once we actually boarded the aircraft. Apparently, our carry-on, perfectly acceptable on any other airline, and given a pass by the EasyJet gal at the check-in desk, was deemed too large by one apple-cheeked, sadistic young flight attendant named Paolo who reveled in informing us, as loudly as possible, that we had a "choice" (right, like Sophie): We could either hand over the accused carry-on, deplane immediately, or suffer the wrath of fellow passengers when the plane sat on the runway past take-off time because of us. Naturally, we "chose" to surrender our carry-on, hastily yanking out our passports, cough drops and a few euros. When we meekly pointed to the many carry-ons larger than ours that remained on board and demonstrated how easily ours fit into the overhead compartment, Paolo barked "Give me your passport, Madame!". This last order, we refused to obey. Paolo backed down. Apparently, there was a limit to even his petty tyrant-in-the-sky aspirations.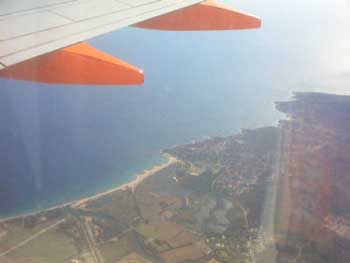 Flying EasyJet's oranged-fingered wings over the exquisite Côte D'Azur ..
PHOTO: SUZY
By the way, just to prove how arbitrary Paolo's insistence really was: Returning on EasyJet from Nice to Paris with the exact same carry-on was perfectly fine.
To be fair, EasyJet is more suited to locals taking a quick trip than to international travelers on the last leg of a long journey. And hey, at least we arrived safely, and we sincerely thank both EasyJet and American Airlines for that!



MIPCannes
by Dr. Susan Block
IN 11 PAGES
1 I 2 I 3 I 4 I 5 I 6 I 7 I 8 I 9 I 10 I 11
PAGE 1

CLICK HERE TO JOIN
THE CANNES PRESS CLUB


E-MAIL US TO ADVERTISE
CANNES: 33 (0) 699962410
LOS ANGELES: 213.749.1330

VISIT THE CANNES PRESS CLUB
YAHOO GROUP: MEMBERS ONLY

CANNES PRESS CLUB FRONTPAGE
THE CANNES PRESS CLUB
welcomes contributions from
Cannes Press Club Members and
Residents of The Riviera
FOR REPRINT RIGHTS, PLEASE EMAIL US
BLOCK PUBLISHING GROUP
8306 Wilshire Boulevard Suite 1047
Beverly Hills, California 90211 USA




CANNES BLA BLA
FEATURE STORIES


Cannes Film Festival


CANNES BLA BLA
ART FARM




DENNIS DUTZI


CHRISTOPHE JEANBLANE


A R T . B O M B S
American Libertines for Peace


CANNES BLA BLA
SPECIAL SECTIONS



HOT SHOTS of CANNES


CLASSIC MOTORCARS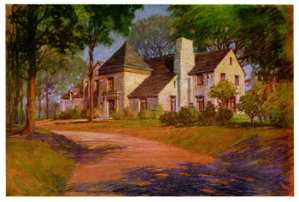 PROPERTIES


RADIO & TV