continued from page 9


MIPCannes
by Dr. Susan Block
IN 11 PAGES
1 I 2 I 3 I 4 I 5 I 6 I 7 I 8 I 9 I 10 I 11

Cannes Press Club / "My Yacht" Soirée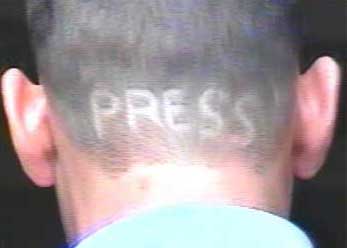 Frederic's barber really got into the spirit of the Cannes Press Club soirée
PHOTO: MAX
"We live by admiration, hope and love."
William Wordsworth (Tom Wontner's maternal ancestor)
We were almost totally soiréed out, but we still had one more soirée to go: our own! We decided to hold the Cannes Press Club Soirée at one of our favorite lounges in Cannes, the Palm Square, easy walking distance from the Palais, just across from the MIPCOM Registration Center. This was the second CPC Soirée at the Palm Square, the first being at Quay's Irish Pub.





Susan Denis, Cannes Press Club President Dr. Susan Block, American TV Agent Walter Behr, French TV Producer Jean-François Denis, Tom Wontner (Producer and Star of "My Yacht"), Captain Cornelius and Antonia Kotterer (who really have a yacht: The ADRIA 1934) ... PHOTOS: MAX
Since we are but a simple village press club, and had a humble "no host bar" instead of the oceans of free booze that gushed through the other soirées, we were not crushed by the avalanche of party-crashers that descended on the FTv, Havana and Cable Ready parties. What we did have was a marvelous mix of MIPCOMers and Cannites, as well as a small contingent from Saint-Tropez, representing all aspects of media, from international print to local radio, TV to online.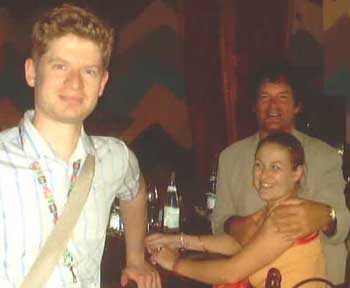 Cannes Press Club Guest of Honor: "My Yacht" Star & Producer Tom Wontner, with Playback HD Managing Director Nigel Shepherd and French Media Regulator ValerieBousquet ... PHOTO: SUZY
As this CPC Soirée took place in the middle of a TV convention, we decided to honor a TV producer. And since it wouldn't have been seemly to honor ourselves, we combed through the MIPCOM calendar just before the market started, and found Tom Wontner, producer and star of "My Yacht." We tracked him down (ain't the Internet grand?), and told him we'd like to see the opening of his film. He told us he wasn't even sure if he could see it. Whereupon, he unfolded his touching True Cannes Story of making this movie at the Cannes Film Festival about a guy who can't get into any movie premieres, and then not being invited to attend his own premiere at MIPCOM (later, as you know if you read page 5 of this piece, he bought himself a ticket--at half price). We were moved by his predicament, his candor and his eloquence, and we asked him to be our CPC Guest of Honor. He accepted immediately. After being shut out of so many Cannes parties and openings, it must have felt nice to not only be invited to one, but to be honored at it.




CPC Guest of Honor Tom Wontner shows off "My Yacht" to Nigel Shepherd
When we met Tom at the Carlton Beach outside the FTv party, he'd slipped us a tape and DVD of his film and, to be frank, we were a little hesitant to watch it. After all, we'd already chosen Tom as our Guest of Honor without even seeing "My Yacht" (basing our choice on Tom's personality, as well as the film's title and breezy Côte D'Azur fantasies it inspires). What if we didn't like it? Well, fortunately, we did. Its Cannes Verité style reminded us of another recent movie about filmmakers who pose as big shots at the Film Festival: Henry Jaglom's brilliant "Festival in Cannes." Both films capture the crazy-snobby-magical charm of Cannes during Festival Season with humor, sensitivity and great, quirky aesthetics. "My Yacht" plays it even closer to the Croisette, making the street performers on the beach around the Palais an integral, moving part of his story.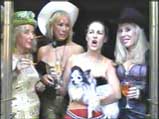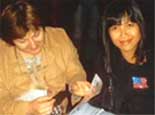 Bettina Adler, Former "Bond Girl" Imogene Diamond, ValerieBousquet with Imogene's dog James Bond, Elena, Dèirdre Mooney, Angelique Occlipo, Trang Beauvois of French Kiss, Catherine Cummings, Conrad Aisquith ... PHOTOS: MAX
Mid-soirée, Tom gave a stirring speech about the virtues of independent filmmaking, and the drawbacks of pretending to own a yacht. Everyone toasted "My Yacht" and went on drinking. Not to rub Tom's nose in it, but two of our other guests, Captain Cornelius Kotterer and his wife Antonia, actually own a yacht, one of the most beautiful and historic sailing ships in the Port du Cannes: The Adria 1934.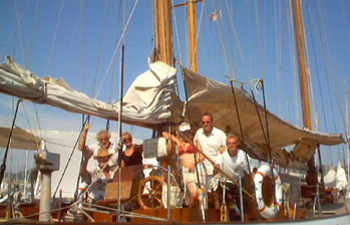 Crew & Bla Bla Aboard the ADRIA 1934... PHOTOS: MAX
People in Cannes can be divided into two groups: those with yachts and those with yacht dreams. We were happy to have both at the CPC "My Yacht" Party. We were also thrilled to facilitate so much happy networking between journalists and filmmakers, renters and proprietors, friends and lovers, yacht owners and dreamers. And everyone couldn't stop reading the first two issues of The Cannes Bla Bla!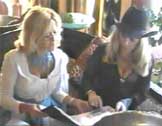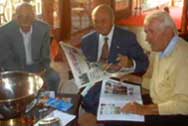 Reading The Bla Bla with Cannes Freelancer Michele Delfino, Figaro Magazine Writer Pierre Arnodinot, Tendance International Writer Dr. Maurice Deroubaix, CPC Officer Boudoin Degaeffe ... PHOTOS: MAX
We also managed to get in a plug for The 10 Commandments of Pleasure by giving away a golden edition as one of the door prizes. The winner, CPC member Paul Joseph Condon, knows just what to do with it: give it to a couple of friends as a wedding gift. That will assure them a hot honeymoon, not to mention everlasting love.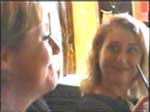 Cannes Press Club Raffel Winners: Radio Saint-Tropez talk show host Jade, with her mother, smiles after winning the French edition of Les 10 Commandements du Plaisir; British freelancer Paul Condon shows off his Golden Edition of The 10 Commandments of Pleasure in English; French Media Regulator ValerieBousquet sports her prize, a genuine Dr. Susan Block Show cap. ... PHOTOS: MAX
Paul also struck networking gold when he connected with former James Bond Girl Imogene Diamond; now he's renting one of her in-town apartments.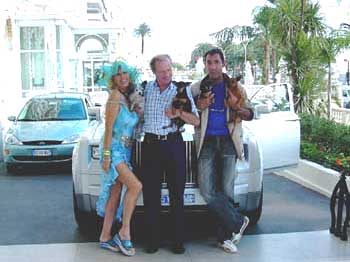 Carlton Doggiefest: Former Bond Girl Imogene Diamond, Paul Condon and Georges Trenet (son of the great French singer Charles Trenet), Imogene's doggie James Bond, Georges' three doggies and his Phantom Roller, by the Carlton Hotel.
Sexy Radio Saint-Tropez talk show host Jade won the French edition of the book, Les 10 Commandements du Plaisir. We hoped she might try following some of the racier commandments with her boyfriend, Saint-Tropez fashion designer Santiag, right there on one of the super-comfy couches in the Palm Square, but, alas, they came with Jade's mother (a delightful woman), so there goes that idea...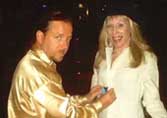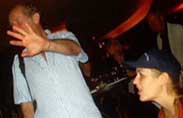 Saint-Tropez Fashion Designer Santiag measures Dr. Suzy for one of his fabulous jackets and CPC Prize Winners Paul Condon and Valerie Bousquet try to avoid the paparazzi PHOTOS: MAX
After we closed down the Palm Square, some of us, including Tom and his lovely new MIPCOM friend Valerie (shades of Wordsworth's Annette Vallon), and the third member of the "My Yacht" ménage, Playback HD's Nigel Shepherd, went to our favorite late-night Asian Fast Food restaurant.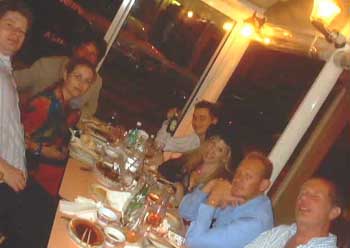 Tom, Valerie, Nigel, their friend, Dr. Suzy, Frederic, Paul PHOTO: MAX
Yeah, we know: What were we doing eating egg rolls in France? Hey, it's good, healthy fast food. French meals take a minimum of two hours, usually four, and then you have to lasso the waiter to get l'addition.


Freedom Fries in France PHOTO: MAX
At least, we didn't go to McDonald's.
MIPCannes
by Dr. Susan Block
IN . PAGES
1 I 2 I 3 I 4 I 5 I 6 I 7 I 8 I 9 I 10
PAGE 10

CLICK HERE TO JOIN
THE CANNES PRESS CLUB



E-MAIL US TO ADVERTISE
CANNES: 33 (0) 699962410
LOS ANGELES: 213.749.1330

VISIT THE CANNES PRESS CLUB
YAHOO GROUP: MEMBERS ONLY

CANNES PRESS CLUB FRONTPAGE

THE CANNES PRESS CLUB
welcomes contributions from
Cannes Press Club Members and
Residents of The Riviera
FOR REPRINT RIGHTS, PLEASE EMAIL US
BLOCK PUBLISHING GROUP
8306 Wilshire Boulevard Suite 1047
Beverly Hills, California 90211 USA