continued from page 8


MIPCannes
by Dr. Susan Block
IN 11 PAGES
1 I 2 I 3 I 4 I 5 I 6 I 7 I 8 I 9 I 10 I 11

Cat Cornered with Cable Ready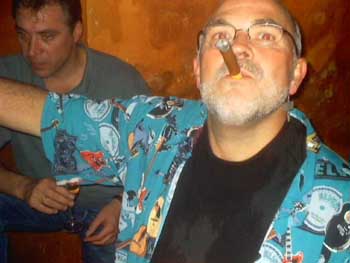 Cable Ready CEO Gary Lico at his Cat Corner Party ... PHOTO: SUZY
"Television is becoming a collage--there are so many channels that you move through them making a collage yourself. In that sense, everyone sees something a bit different."
David Hockney, British artist
The yacht soirées shut down by nightfall, so it was onto the next vidbiz watering hole and what turned out to be our favorite after-party at MIPCOM 2003: the Cable Ready party at Le Cat Corner. We're not just saying this because Cable Ready is an American company. Although with the Bushies making the U.S. look like international imperialist bullies (and fairly inept international imperialist bullies at that), we have to admit that we were searching for something--anything!--to remind us of why we're proud to be Americans.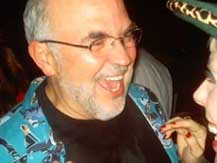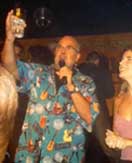 With Cable Ready CEO Gary Lico at Le Cat Corner .. PHOTOS:MAX & SUZY
Gary Lico reminds us of one reason why we're proud: Americans can party! He rented Le Cat Corner, one of the hottest club in Cannes with a cozy yet dramatic set-up conducive to drinking, dancing, making rousing, inebriated speeches as well as making out in dark corners.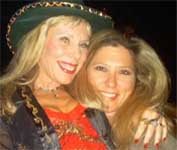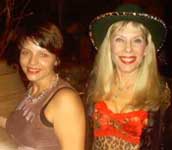 With Valerie Milano (who attended the opening to "ART BOMBS: American Libertines for Peace" at MipTV 03) and Sabrina Sanchez of Cable Ready .. PHOTOS: MAX
Then he stocked it with a huge amount of liquor. Not only were the bartenders pouring a liter a minute and the hostesses plying flutes of champagne, on every other table in the place were king-sized bottles of J&B, gin, rum and vodka, along with glasses and mixers--everything but a sign saying "Help Yourself! Get Smashed!" Everybody did help themselves, but we didn't notice anyone throwing up or getting out of hand. MIPCOMers are, for the most part, well-behaved.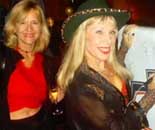 Signing the Cable Ready poster and having a blast at the Cat Corner ...
PHOTOS: MAX & SUZY
The mood was peace, love and television. Big grins were endemic. Everybody was loving everybody and their TV shows. The dance floor and stage were packed with joyous, writhing bodies (kind of like the orgy scene in Matrix Reloaded, without the orgy). It was as close to a rave as MIPCOM gets.




MIPCOM boothman & associate, MIPCOM's Michele Contegni, Rachel Bedford, Ellie Gekova ,,, PHOTOS: SUZY & MAX
Apparently, Gary Lico does more than throw great parties. He also makes the dough to pay for them. It all began over a decade ago when, after 24 years in the broadcast industry, Gary decided to cast off his old corporate shackles, and do his own thing. Thus, Cable Ready was spawned, soon bringing "quality, niche programming" to cable stations throughout America and around the globe. Among Cable Ready's biggest hits are "Inside The Actors Studio" on Bravo, "Medical Detectives" on TLC and "The Directors" on Encore. At MIPCOM, they were also pitching a sexy show called "Envy" featuring host Hayley Verlyn trotting around the globe in her stilletos, hanging with porn stars in Hollywood and riding the waves with a ladies' nude surfing team in Australia.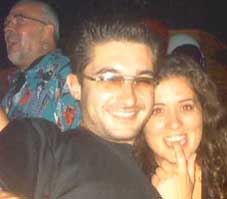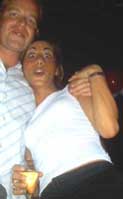 Thibault Mauvilain of Bleu Azure; Matt Davis and Michele Contegni PHOTOS: SUZY
Gary gave FTv's Michel Adam a run for his money in the contest for title of "MIPCOM CEO Most Obviously Enjoying Himself At His Own Company's Party." None of that designer-water drinking so popular among Hollywood CEOs, paranoid lest their rivals catch them tipsy, for MIPCOM men like Michel and Gary. A cigar in his mouth and a drink (or bottle) in his hand, his earring glittering in the strobe light, Gary was surrounded by sexy women (the Cable Ready sales staff?) and fawning men, and always grinning the biggest grin in a grin-filled room.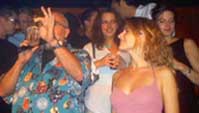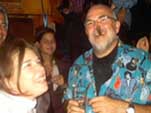 Cable Ready CEO Gary Lico surrounded by his adoring (mostly female) disciples at Le Cat Corner .. PHOTOS: SUZY
MIPCannes
by Dr. Susan Block
IN 11 PAGES
1 I 2 I 3 I 4 I 5 I 6 I 7 I 8 I 9 I 10 I 11

PAGE 9

CLICK HERE TO JOIN
THE CANNES PRESS CLUB



E-MAIL US TO ADVERTISE
CANNES: 33 (0) 699962410
LOS ANGELES: 213.749.1330

VISIT THE CANNES PRESS CLUB
YAHOO GROUP: MEMBERS ONLY

CANNES PRESS CLUB FRONTPAGE

THE CANNES PRESS CLUB
welcomes contributions from
Cannes Press Club Members and
Residents of The Riviera
FOR REPRINT RIGHTS, PLEASE EMAIL US
BLOCK PUBLISHING GROUP
8306 Wilshire Boulevard Suite 1047
Beverly Hills, California 90211 USA