continued from page 3


MIPCannes
by Dr. Susan Block
IN 11 PAGES
1 I 2 I 3 I 4 I 5 I 6 I 7 I 8 I 9 I 10 I 11
All We Are Saaayying...
Is Just Give Clothes A Chance…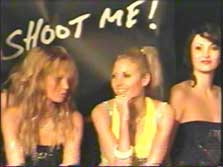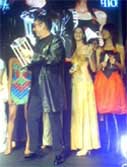 Germany's Birte Glang, England's Abi Boston & Romania's Antonella want you to "Shoot" them, and FTv CEO Michel Adam and Israel's Tami Tasker lead the Fashion Parade .. PHOTOS: MAX & SUZY
"People ask how can a Jewish kid from the Bronx do preppy clothes? Does it have to do with class and money? It has to do with dreams..."
American Fashion Designer Ralph Lauren
Fashion Tv is fast becoming an international television powerhouse, with models striding down its runways from countries in three continents: Europe, Asia and Africa. Glaringly absent at the FTv Model Awards--to us Yanks, anyway--were any beauties from North America, specifically the U.S. of A. But then, we didn't notice any models from predominantly Moslem countries either. Coincidence?




Perfect-fit thong and bikini bottoms flank Croatia's Sonja Grohar and Nigeria's NkemVivian Dike wearing the FTv Mannequin's Favorite T-Shirt: "What Do I Know? I'm Just a Model" ... PHOTOS: MAX
Israel and China were well-represented. Both countries offered up two flowers-of-her-land, each of whom snagged a Swarovski sparkler, plus the opportunity to act in "Shoot Me," the new FTv "scripted reality micro-series," or be an FTv VJ in her host country. Who knew that two nations as seemingly disparate as Israel and China would share such an intense appreciation for fashion? Not that the winners weren't eminently deserving, but their near-sweep might have had something to do with FTv having a relatively large new audience in China, and setting up new central offices in the southern Israeli town of Beersheva with the close of its old headquarters in Paris. The move from Paris to Israel (the fashion center of the Middle East, since all the other countries seem to be dressing their women in the latest style in puptents) is said to be the idea of Michel Adam, creator, mover and stylish shaker of FTv.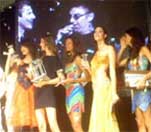 FTv's CEO Michel Adam surrounded by long-stemmed international beauties, and contemplating his crystal.... PHOTOS: MAX
Celebrating the move and the models, Michel is one of many MIPCOM CEOs unafraid to show the world that he's having a great time at his own company's party. He reveled shamelessly in the glamour of it all, sauntering around the stage in his shiny leather Matrix coat, sipping Moët et Chandon, congratulating contestants and stockholders alike, and holding the Swarovski Crystal awards up to the light, like a Jedi harnessing the Force, or a child playing with a prism. And why not? In these war-wracked times, FTv is, as the English say, "brilliant." It's a Paris natural, now moving to Israel on its way to becoming the Stylish Roadmap to Peace. "Shoot Me!"--but please darling, only with your camera.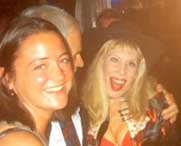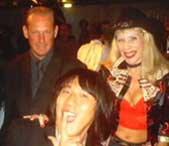 Shoot Me! I'm at the FTv Party! .. PHOTOS: MAX
"Michel Adam is a proud Jew. I understand that he feels happy in Israel, and that he is hopeful for calmer times between Israelis and the Palestinians," an FTv spokeswoman told Focus on Israel. "He sees potential here. He believes in the people in Israel. I think this helped in his decision to move FTv offices here." Well, war hasn't worked too well, so you have to wonder: Can Fashion save the Middle East? All We Are Saaayying Is Just Give Clothes A Chance…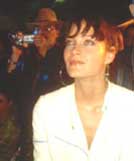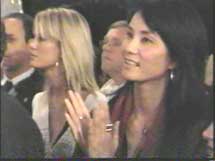 Alexandra from Czech Republic and Judy Chen from China (whose agency Galaxy Models represents two of the winners: Li Syiu and Mabel Wang) watch the show... PHOTOS: SUZY & MAX
Well, there's no doubt that fashion makes for mesmerizing television. Models are the airy gods and goddesses of our times, whether they can "act" or not. FTv is addictive to men who like to look at pretty women, and women who like to look at pretty clothes, and vice versa. And don't forget the male models; their beauty is pretty powerful too. It's only a matter of time before we in the thus-far FTv-resistant American and Muslim states get over our respective inhibitions and hop on the FTv bandwagon.






Israel's Tami Tasker says "Shalom" to FTv Communications Director Marie France Fatien; Hot legs; Tami hugs Sonja; Israel's Hen Shiloni wins the Internet Model Award; a Fashion fan dances ... PHOTOS: SUZY
Like a Miss Universe contest whose contestants have no pretensions to anything but style and good genes ("What do I know? I'm a Model" was the T-shirt slogan of choice), the models represent their countries as well as themselves. Tami Tasker, fresh out of the Israeli army, was the big FTv Model Award winner. "This shows to the world that Israel is not only about fighting terrorism like you see on TV but there is fun and fashion as well," she declared. "Israelis are the best looking girls in the world." Perhaps after a statement like that, we need to hear from the Palestinian side, but unfortunately, Palestine was not one of the countries represented. Palestinian modeling agencies: send in your clients' photos now!




Dedicated Followers of Fashion Tv.. PHOTOS: MAX
Other FTv Model Award Winners included Li Siyu of China and Tenu Verghis of India (the howler). Internet Model Award Winners included Hen Shiloni of Israel, Mabel Wang of China and Christina Sidera of Greece, with a Special Monte Carlo Prize going to the Czech Republic's Natalia Gaplovska. Congratulations, Venuses of the World! Make like the bonobos, spreading peace through pleasure wherever you prance. May the Power of your Beauty and the Strength of your Love put the Gods of War to sleep!


Sandro Botticelli's Venus & Mars

MIPCannes
by Dr. Susan Block
IN 11 PAGES
1 I 2 I 3 I 4 I 5 I 6 I 7 I 8 I 9 I 10 I 11
PAGE 4

CLICK HERE TO JOIN
THE CANNES PRESS CLUB



E-MAIL US TO ADVERTISE
CANNES: 33 (0) 699962410
LOS ANGELES: 213.749.1330

VISIT THE CANNES PRESS CLUB
YAHOO GROUP: MEMBERS ONLY

CANNES PRESS CLUB FRONTPAGE

THE CANNES PRESS CLUB
welcomes contributions from
Cannes Press Club Members and
Residents of The Riviera
FOR REPRINT RIGHTS, PLEASE EMAIL US
BLOCK PUBLISHING GROUP
8306 Wilshire Boulevard Suite 1047
Beverly Hills, California 90211 USA