ONLINE JOURNALS


Dr. Suzy's Travels




FOOD & DRINK


La Cambuse Gourmet


QUAY'S IRISH PUB





CANNES SERVICES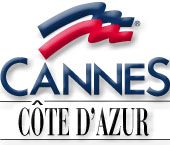 AFTER DARK


EQUIPMENT



NATURE




LODGING & PROPERTIES


Legal Services
JOHN BURTON
L . A . W

PRESS CLUBS


THE LA PRESS CLUB


The Cannes Press Club



continued from page 10


MIPCannes
by Dr. Susan Block
IN 11 PAGES
1 I 2 I 3 I 4 I 5 I 6 I 7 I 8 I 9 I 10 I 11

Cannes Bubbly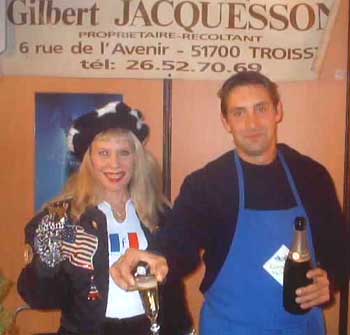 Passing out champagne to the thirsty with Gilbert Jacquesson PHOTO: MAX
"Nothing equals the joy of the drinker, except the joy of the wine in being drunk."
French saying
The next day felt like Sunday, but it was Tuesday. Finally, we got a technician to come over and fix the Cannes Press Club computer! Now, we wanted nothing more than to just hang out at headquarters, look at the view, and work on the next issue of The Bla Bla. Enough parties! Let's just stay in, work and play… Then Valerie called and invited us to déjeuner at the Croisette Corner down the street. All right, well, maybe just a light lunch. It was midi, after all…






Déjeuner at the Croisette Corner with Valerie, Paul, Michele & Nigel .. PHOTOS: MAX & SUZY
Over salads, ice cream and pastilles, we compared MIPCOM memories and shared our story of our adventures with the LAPD, ("That's a movie!" exclaimed Nigel, and we, of course, agreed; and now that we've won our settlements, maybe we'll make it). We were intrigued to learn that after the CPC soirée, some CPC members had gone to hotel rooms with other CPC members for "the best sex (they) ever had." Just goes to show that the Festival du Film isn't the only Cannes venue where spontaneous, serendipitous, crazy, heady romance can bloom. But no, we won't spill the beans as to who went with whom. We may be sexy (thank you, Keith!) , but we're not catty.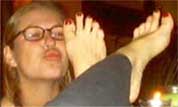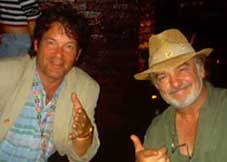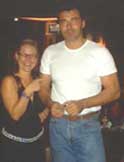 Back at the Palm Square: Valerie in her new Cannes clothes, gazing upon Marie's sculpture, Suzy Sphinx, Valerie kisses our feet, Nigel bonds with Max, Valerie and associate... PHOTOS: SUZY & MAX
We did a bit of shopping, something for which we'd been far too busy during the MIPCOM, what with our heavy investigative partying schedule, then met again for aperitifs at the Palm Square where Valerie posed for our cameras in her new Cannes outfits, and Nigel and Max bonded over anti-war-anti-Bush-anti-Blair talk. Finally, we returned to CPC headquarters and bonded with our good-as-new computer…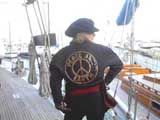 Angelique at her sister's shop Galerie Art Present: PEACE on board the ADRIA 1934; in front of French Kiss .. PHOTOS: SUZY, MAX, TRANG
Wednesday, the weather turned, as abruptly as the end of vacance. A harsh wind howled like a wolf down the hills and alleyways of what had just been so sunny and calm. We hadn't packed for such wintry conditions; the only thing to wear was an American Peace "bomber" jacket and leopard mittens. We scurried through the cold, doing a bit more last-minute shopping and yacht-hopping, our teeth chattering and our noses running along with our feet. Max thought somebody sneezed on us at the Cat Corner party. I hated to think that that wonderful party was infected with germs, but my throat was raw and scratchy.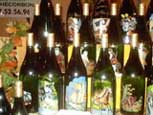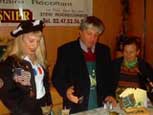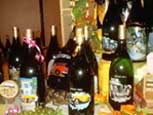 With Michel Gasnier of Vins de Vouvray PHOTOS: MAX
What soothes a scratchy throat? Why a little aperitif (at least, temporarily). So off we went to the local Cannes Champagne Tasting Fête, where whom do we bump into but Thierry. Just back from Marseilles, Thierry joined Boudoin, Dr. Maurice, Michele and Angelique, in conducting an in-depth investigation of the wines, cognacs and champagnes of the various chateaux of Provence and environs.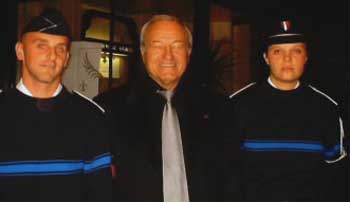 Mayor Bernard Brochand of Cannes with his Bodyguards .PHOTO: THIERRY
As we arrived, Thierry and Boudoin told us that we'd just missed the Mayor of Cannes, though we did meet his "Responsible Animations" (which we think means "Director of Live Events"), the suitably jovial Jean-Paul Occelli. We were serenaded by white-haired French minstrels as we sampled some of the finest wines of France. We even "won" a bottle of Vins de Vouvray champagne from the Loire.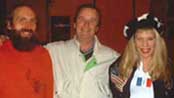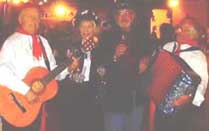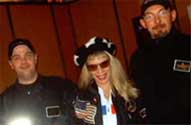 With Cannes Director of Live Events Jean-Paul Occelli, other party officials, Michele Delfino, Sylvan Busser of Chateau La Rose Rouge, Thierry Chevrolier, Angelique Occlipo, Boudoin Degaeffe, Delicacies of Martinique, Domaine La Rose Rouge Grand Vin de Cahors, Cannes Security Guards, More Champagne, Angelique and Sylvan PHOTOS: MAX
Aaah, those bubbles are so soothing… like television.
F I N I
MIPCannes
by Dr. Susan Block
IN . PAGES
1 I 2 I 3 I 4 I 5 I 6 I 7 I 8 I 9 I 10
PAGE 11

CLICK HERE TO JOIN
THE CANNES PRESS CLUB



E-MAIL US TO ADVERTISE
CANNES: 33 (0) 699962410
LOS ANGELES: 213.749.1330

VISIT THE CANNES PRESS CLUB
YAHOO GROUP: MEMBERS ONLY

CANNES PRESS CLUB FRONTPAGE
THE CANNES PRESS CLUB
welcomes contributions from
Cannes Press Club Members and
Residents of The Riviera
FOR REPRINT RIGHTS, PLEASE EMAIL US
BLOCK PUBLISHING GROUP
8306 Wilshire Boulevard Suite 1047
Beverly Hills, California 90211 USA




CANNES BLA BLA
FEATURE STORIES


Cannes Film Festival


CANNES BLA BLA
ART FARM




DENNIS DUTZI


CHRISTOPHE JEANBLANE


A R T . B O M B S
American Libertines for Peace


CANNES BLA BLA
SPECIAL SECTIONS



HOT SHOTS of CANNES


CLASSIC MOTORCARS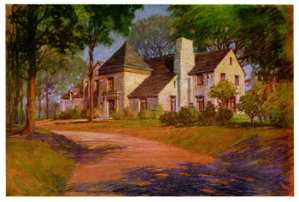 PROPERTIES


RADIO & TV