continued from page 5


MIPCannes
by Dr. Susan Block
IN 11 PAGES
1 I 2 I 3 I 4 I 5 I 6 I 7 I 8 I 9 I 10 I 11
MTV at Bâoli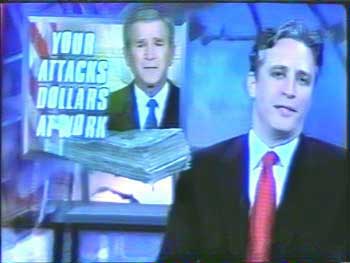 "Your Attacks Dollars at Work": Jon Stewart on MTV's Comedy Central
"I hate television. I hate it as much as peanuts.
And I can't stop eating peanuts."
Orson Welles, American filmmaker
The second day, we slept off the first day, then lined up our invitations to the next 36 hours of the finest MIPCOM parties on land and sea.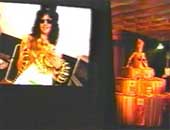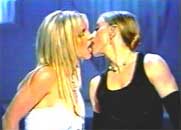 Scenes from a Channel: MTV shows its stuff, featuring Britney Spears tonguing Madonna at the MTV Awards, proving that though the US Republican Congress may spurn French fries, American pop stars sure love French-kissing! .. PHOTOS: MAX
Early Saturday evening was MTV at Bâoli. Last year's Fashion Tv party had been at this très chic Cannes club with non-stop dancing on the tables and chairs. Alas, there was no dancing at MTV's rather corporate-style soirée.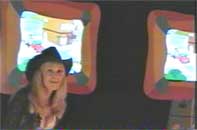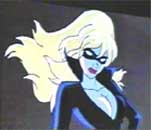 Sampling the cartoons at MTV, including our favorite, "Stripperella," featuring the voice of Pamela Anderson as a stripper/superhero .. PHOTOS: MAX
But what it lacked in dancing, this party made up for in its cute cartoony atmosphere and tasty hors d'ouevres.




Check out the photo on the left where you see Gabriella's Skirt of Desserts. In the middle photo, notice her Camera Lens Bra. In the far right photo, you can see what she's shooting. ... PHOTOS: MAX
The presentation of the desserts was especially charming in the form of a "skirt" worn by a gracious mignonne named Gabriella with TV camera lenses for a bra. Gautier wouldn't have minded; it is a TV convention.




We want our MTV! Max with Boudoin and Dr. Maurice, and Joanna, an exhuberant Dr. Suzy fan from Texas (watches the HBO show) atBâoli PHOTOS: SUZY
Speaking of TV, whom should we bump into at Bâoli but Hadar, Udi, Tali and Ethy from Ananey's EGO Channel? In case you don't know, this is the TV station in Israel that just starting airing The Dr. Susan Block Show five nights a week (and made our Alexa ratings skyrocket; lots of webheads in Israel). Since our agent Walter Behr had sold them the show at MIPTV in Spring, we were not surprised to see them here at MIPCOM, just impressed to be doing another "bump-and-meet" with people we'd corresponded with but hadn't yet met in person. Such is the nature of the MIP.




Hadar Kowarsky, Tali Fink and EthyGrego of Ananey's EGO Channel in Israel ... PHOTOS: MAX
EGO, "the first Israeli channel specifically tailored for the hot-blooded 18-45 male audience…with a cheeky and humorous on-air look and feel." is a very nice fit for The Dr. Suzy Show which is "cheeky" in every sense of the word. We talked about the show, the Market, Israeli male sexuality ("they spend too much time in the army" explained Udi) and the Israeli beauties who horahed away with the top FTv awards.
Then we met yet another Israeli beauty. They were everywhere this MIPCOM, and we wondered what it all meant regarding media, war, peace, sex...Do they also spend too much time in the army? This one, Hofit Golan, hosts a series of music concert TV shows out of Miami. Since Israel is smaller than Florida, we figured she must know the EGO Channel folks, but she didn't. So we took great pleasure in introducing them. Matchmaker, Matchmaker, Make Me a Match…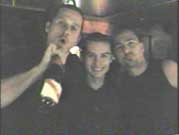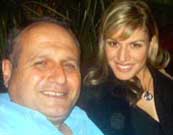 The Bâoli Bartender Trio, and Udi Miron of Ananey TV's EGO Channel in Israel with Hofit Golan of Emage Global Events. ... PHOTOS: SUZY
MIPCannes
by Dr. Susan Block
IN 11 PAGES
1 I 2 I 3 I 4 I 5 I 6 I 7 I 8 I 9 I 10 I 11
PAGE 6

CLICK HERE TO JOIN
THE CANNES PRESS CLUB



E-MAIL US TO ADVERTISE
CANNES: 33 (0) 699962410
LOS ANGELES: 213.749.1330

VISIT THE CANNES PRESS CLUB
YAHOO GROUP: MEMBERS ONLY

CANNES PRESS CLUB FRONTPAGE

THE CANNES PRESS CLUB
welcomes contributions from
Cannes Press Club Members and
Residents of The Riviera
FOR REPRINT RIGHTS, PLEASE EMAIL US
BLOCK PUBLISHING GROUP
8306 Wilshire Boulevard Suite 1047
Beverly Hills, California 90211 USA