continued from page 7


MIPCannes
by Dr. Susan Block
IN 11 PAGES
1 I 2 I 3 I 4 I 5 I 6 I 7 I 8 I 9 I 10 I 11

Yacht-Hopping at Mipcom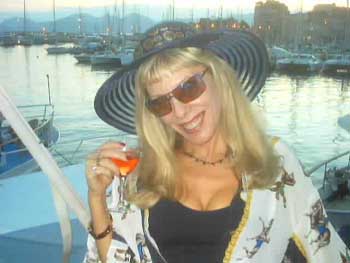 Sunset on the Five Angels Yacht in the Port du Cannes .. PHOTO: MAX
"Television knows no night. It is perpetual day. It embodies our fear of the dark, of night, of the other side of things."
Jean Baudrillard, French semiologist
Sunday was yacht soirée day. On our way to the harbor, we stopped in front of the Palais to watch the giddy stars of "Saint-Tropez" walk down the red carpet (minus the carpet), to celebrate the shooting of their 300th episode and dance to "La Bamba."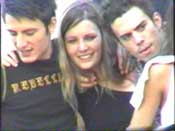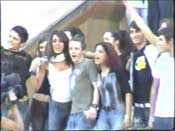 CAST OF MARATHON'S HIT SERIES "SAINT-TROPEZ" (some of who are pictured here dancing to La Bamba and greeting fans in front of the Palais): Bénédicte Delmas, Tonya Kinzinger, Adeline Blondieau, Romeo Sarfati, Christine Lemler, Gregory Fitoussi, Stéphane Slima, Marie-Christine Adam, David Brécourt, Mélanie Maudran, Avy Marciano, Shirley Bousquet, Erick Chabot, Mylène Jampanoï.. PHOTOS: MAX
With 360 episodes now under contract with French broadcaster TF1 (290 episodes already produced), "Saint Tropez" is set to surpass the classic American series "Dallas" (356 episodes in total) in terms of endurance. Now, that's a Marathon. Having fallen in love with the real Saint Tropez this past summer, we couldn't miss this appearance of the stars of the TV version, fleeting as it was.
On our way to the yachts, we stopped at the MIPCOM Press Club to meet with an accredited journalist friend whom we never did get to meet with, since MIPCOM Press Officer Keith Daly was on "orange alert" guard duty, making sure that no one but MIPCOM-accredited journalists could sit down. We chafed, but understood. After all, The Cannes Bla Bla is only a few months old, and the Reed-Midem Press Accreditation hierarchy is just getting to know us. What we didn't quite understand was Keith's parting remark that The Bla Bla was too "sexy" to be "real journalism." Hmm… The Cannes Bla Bla is kind of sexy (like Cannes), and we are proud of that, but it's not as though it's X-rated. And since when are sexiness and journalism diametrically opposed? There was a time not too many years ago when a certain US President was exposed for his sexual peccadilloes, and every journalism outlet in the world was reporting breathlessly on sex, sex, sex, with the same gravity it reports on war. And what about The Naked News? Peggy Refford, looking a little fatigued (long day at Havana?), came out to reassure us that The Bla Bla wasn't really *too* sexy, just rather new. Hmm, we never thought we'd want to accelerate the aging process...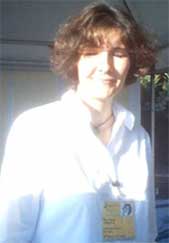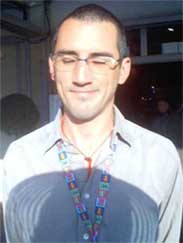 MEDIA YOGA: Mipcom/Reed-Midem Press Accreditation Manager Peggy Refford and Press Officer Keith Daly meditate while guarding the gates of the MIPCOM Press Club. .. PHOTOS: SUZY
Mercifully for us all, it was now time for the yacht parties. Yachts are a big part of the Cannes Experience, whether you own one, pretend you own one (like Tom Wontner's character in "My Yacht"), take one for a ride (like we did with the Adria this summer), work on one or just hang out on one while it's docked. In truth, having a drink on a docked yacht is not really different from having a drink on terra ferma, but it feels different, like at any moment you could sail off into parts unknown.







Yacht-hopping in the Riviera sunshine with Michele Delfino of Cannes. PHOTOS: MAX
The yachts docked around MIPCOM don't tend to be ultra-extravagant like the grand floating party palaces docked at Saint-Tropez. There are a few classic beauties like the Adria. But most are more like floating offices.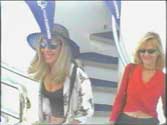 Boarding Freemantle Media's floating
office at MIPCOM . PHOTO: MAX
Actually, they serve much the same function as a booth in the Palais; they're a comfortable place with desks and tables and VCRs that you can rent to show off your shows and make deals. And the fact is, docked or not, it's much more exciting to make your television deal on a yacht in the lovely Port du Cannes than inside a windowless booth in the Palais.



Yacht meetings around the Palais . PHOTOS: MAX
The meetings went on all day in the rental yachts around the Palais. Then, as the sun set over the harbor, turning all the boats and the people in them a deep, glowing Mediterranean blue, the champagne began to flow like the rippling sea around us.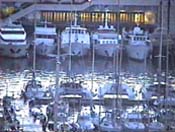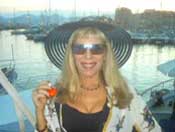 View of the yachts in the Port du Cannes from Cannes Press Club/Cannes Bla Bla headquarters and a view of opposite side of the port from the Five Angels Yacht (that's our headquarters just behind me!) PHOTOS: MAX
Being the "sexy" publication that we are, we focused most of our attention on the "Sexy Night Cocktail" aboard the Five Angels Yacht (Jetée Albert Eduoard), thrown by Distractions Formats of Canada, celebrating its programs "StripSearch, "Sexy Cam" and "Sex Shop." Wow! And Keith thought The Cannes Bla Bla was sexy. This line-up should drive him to distraction! Which is just the idea.




Posters on The Five Angels Yacht promote Distractions Formats "SexyCam," "StripSearch," and "SexShop" .. PHOTOS: MAX
"StripSearch" is subtitled "the real full monty!" If you buy it, the StripSearch Team will enter your country, along with the show, and embark on a nationwide search for "the cheekiest and sexiest guys who all have one thing in common… beautiful bodies!" Then the Team, with the help of choreographers, beauticians, stylists and other health and performance gurus, turns these native hunks into a professional, toned-up troupe of male strippers who perform for thousands in various venues in your country. "StripSearch" beefcake has sizzled in New Zealand, Australia, United Kingdom, France, Russia, Poland.and Canada, but not yet in the U.S. Heck, we don't even carry Fashion Tv. Well, at least, we've got "Queer Eye for the Straight Guy." Now just imagine those "straight" guys with six-pack stomachs taking it all off, and you've got "StripSearch."




On board the Five Angels Yacht with Distractions Formats' Director of Development & PR John Gough, Product Manager Alice de Maré & Max .. PHOTOS: MAX & MICHELE
"SexyCam" is another "cheeky" format that I've seen--and enjoyed--once or twice, though I can't remember what country, much less what channel I saw it on. Basically, its "Naked Candid Camera," turning its voyeur vision on regular people going about their day, suddenly forced to confront something blatantly sexual. "Imagine the shock of entering your local restaurant to find all the other diners are naked!" exhorts the brochure. "Just think how you would feel to find a couple in the throes of passion, sprawled across your car in the parking lot." Strolling around the Five Angels, I half-expected to bump into the crew licking olive spread and champagne off each others' naked bodies. But no such luck.
"Sex Shop" was probably the raunchiest of the three formats celebrated at Distractions' "Sexy Night Cocktail," and the only one not described as "cheeky." Much like "Real Sex" on HBO, "Sex Shop" introduces the viewer to sex practices of all kinds around the world. Keith probably wouldn't consider it journalism, but it sounds like a interesting way to learn about other cultures: through the prism of their sexual fantasies and customs.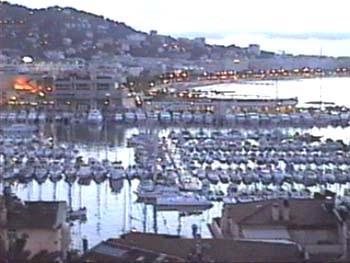 Dawn view of the yachts and boats in the Port du Cannes from Cannes Press Club and Cannes Bla Bla offices. ... PHOTO: SUZY
MIPCannes
by Dr. Susan Block
IN 11 PAGES
1 I 2 I 3 I 4 I 5 I 6 I 7 I 8 I 9 I 10 I 11
PAGE 8

CLICK HERE TO JOIN
THE CANNES PRESS CLUB



E-MAIL US TO ADVERTISE
CANNES: 33 (0) 699962410
LOS ANGELES: 213.749.1330

VISIT THE CANNES PRESS CLUB
YAHOO GROUP: MEMBERS ONLY

CANNES PRESS CLUB FRONTPAGE

THE CANNES PRESS CLUB
welcomes contributions from
Cannes Press Club Members and
Residents of The Riviera
FOR REPRINT RIGHTS, PLEASE EMAIL US
BLOCK PUBLISHING GROUP
8306 Wilshire Boulevard Suite 1047
Beverly Hills, California 90211 USA