MIPCannes
by Dr. Susan Block
IN 11 PAGES
1 I 2 I 3 I 4 I 5 I 6 I 7 I 8 I 9 I 10 I 11
SO, SHOOT ME!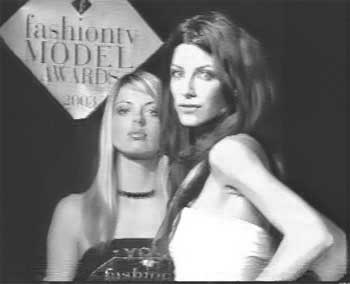 Israel's Hen Shiloni and Italy's Laura Faita at the Fashion Tv Model Awards, part of the MIPCOM 2003 Opening Cocktail ... PHOTO: SUZY
"Let's face it, there are no plain women on television."
Anna Ford, British television personality
We commenced with the official MIPCOM Opening Night Cocktail, which was a bit smaller this year than '01 and '02, held at the medium-sized Carlton Beach instead of the usual sprawling Palm Beach Casino.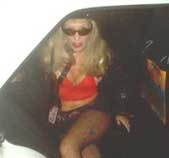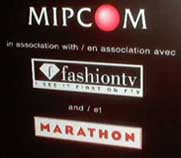 Arriving at the MIPCOM Opening Night Cocktail .. PHOTOS: MAX
But it was just as much fun as ever. Last year featured the Cirque du Soleil. This year's show was a Circus of Style. Sponsored by Marathon Entertainment, creators of the international hit TV series "Saint Tropez," as well as Fashion TV, creators of Fashion Tv ("the first and only international TV channel dedicated to fashion - 24 hours a day!"), the party was packed with stunning models, cute actors, bizarre-looking handlers, dazed delegates, free-flowing Moët & Chandon, flickering tickertape, glittering prizes, pounding beats and dance-dance-dancing, with the gentle roar of the autumn sea just a step outside the madness.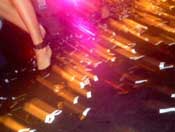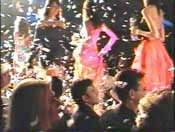 The magic of tickertape .. .PHOTOS: SUZY
The formal entertainment consisted of watching about 20 of the loveliest young women in the world primp, promenade and win prizes for their beauty. The voyeuristic fun began before the show, as the makeup artists got the models ready to strut gamely before both MIPcomers and Internet fans voting for "Best Model."



Dancing and primping before Catwalk Time: Israel's Hen Shiloni, China's Mabel Wang & Li Siyu and Croatia's Sonja Grohar... PHOTOS: MAX
Next, each model spoke a bit, perhaps a word of peace (Tami Tasker of Israel), or a howl at the moon (Tinu Verghis of India), to the two genially salivating MCs, Max Montovani of Jimmy'Z and Sinisa Lazarevic, or to FTv's model-pretty Communications Director Marie France Fatien. Then, we watched some of them win gigantic Swarovski crystals, pose for photos, and strut some more. That was pretty much it.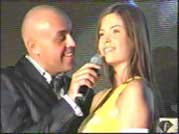 FTv MODELS SPEAK: Max Montovani, Director of Jimmy'Z in Monte Carlo, with NkemVivian Dike of Nigeria; Sinisa Lazarevic with Poland's Agnieszka Banach; Max with Birte Glang of Germany PHOTOS: SUZY
But in these times of ugly international war and terror, a sparkling parade of international beauties seemed to be just what the peace doctor ordered.



Everyone looks like a model after a few flutes of Moët & Chandon PHOTOS: MAX
Indeed, what could be more delightful, even inspiring, than to ogle all these specimans of feminine pulchritude from different countries striding, prancing and flirting their way down the catwalk in outfits that reveal far more than they conceal, each representing her native land with charm, grace, peace, love, and the powerful desire to win?
MIPCannes
by Dr. Susan Block
IN 11 PAGES
1 I 2 I 3 I 4 I 5 I 6 I 7 I 8 I 9 I 10 I 11
PAGE 3

CLICK HERE TO JOIN
THE CANNES PRESS CLUB



E-MAIL US TO ADVERTISE
CANNES: 33 (0) 699962410
LOS ANGELES: 213.749.1330

VISIT THE CANNES PRESS CLUB
YAHOO GROUP: MEMBERS ONLY

CANNES PRESS CLUB FRONTPAGE

THE CANNES PRESS CLUB
welcomes contributions from
Cannes Press Club Members and
Residents of The Riviera
FOR REPRINT RIGHTS, PLEASE EMAIL US
BLOCK PUBLISHING GROUP
8306 Wilshire Boulevard Suite 1047
Beverly Hills, California 90211 USA